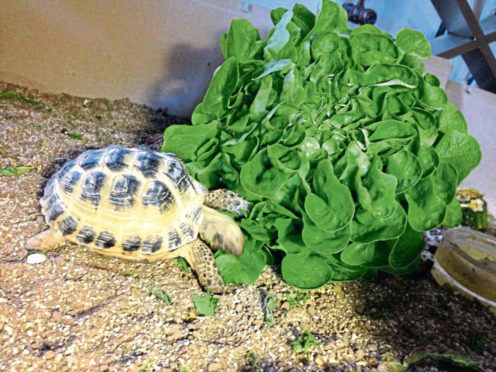 An adventurous tortoise has gone on the run – and his north-east owner has made an emotional appeal for his safe return.
The seven-year-old tortoise, named Baxter, has been missing from his home on Boswell Road, Portlethen, for a week – and his keeper Scott Thomson wants him back.
Baxter lives indoors during winter, but animal lover Scott lets him out in summer so he can chomp on leaves and dandelions.
The lovable pet had been content in his tortoise enclosure during the recent warm spell – but Scott became concerned when Baxter launched a failed escape bid on July 23.
Scott, 41, a self-employed painter and plasterer, went into his back garden to discover his pet crafting a hole between the side of his enclosure and netting, which keeps him in and stops seagulls from swooping in to lift Baxter away.
"I busted him on that occasion, but he got out a couple of days later and I haven't seen him since," said Scott.
He added: "When I was aged three I had a tortoise, but my mum had to give him away because there was a salmonella scare at the time and tortoises carry salmonella.
"I always wanted one as an adult – they are good companions and easy to maintain."
During winter, Baxter lives inside, eating leaves, carrots and peppers. He also uses a UV light to keep warm.
"It's a kind of hot water bottle for tortoises," said Scott.
"In summer, he loves to walk around the garden. The sunlight is good for him because it hardens the calcium in his shell.
"I went into the garden last Friday and found he'd got out into the neighbour's garden as there was a gap in my fencing because I'm building a man cave-style shed. Sadly, the neighbours had their gate open so he could have gone anywhere.
"People think tortoises are slow, but Baxter is quite nippy."
Scott said his niece Maisie, 7, and nephew Max, 10, are really missing Baxter.
"If anyone knows where he is, please contact the SSPCA. I've contacted them and they said they will keep a lookout.
"We all really miss him."