A North-east family today said their lives have been changed after their little boy was able to eat without the aid of a tube for the first time after taking part in a specialist medical programme.
Lauren Knight and Grant Dryburgh's wish that their toddler son Henry, who has battled a number of illnesses after being born prematurely, would be able to join the family at the table for Christmas dinner came true.
Henry is one month into a Notube netcoaching programme that his parents, from Alford, say has "changed his life" after Evening Express readers and the public helped the family raise the £4,000 needed for the youngster to complete the specialist coaching.
Eighteen-month-old Henry, who could only be fed by tube and vomited uncontrollably at even the smell of food or the sight of a spoon, is currently undergoing online coaching to teach him to eat.
Now, the youngster is free of the nasal tubes and the sickness that had plagued mealtimes, and has even eaten rusks and custard by mouth.
Grant, 23, said the programme – and Henry's success – had changed his family's lives.
He said: "We are so proud of him, it's changed his life and it's changed our lives – he sat between us both at the table for Christmas dinner and had some custard.
"It's a real Dryburgh-trait, we all love custard!"
Mum Lauren, 22, couldn't believe how quickly little Henry took to eating food, and said doctors were pleased with his progress.
She said: "He is now racing through his developments, saying more words and copying us both. We were always worried about taking him out with us, but now he's stronger we can and that's a real weight off our shoulders.
"We'll be working our way up to more solid food."
Notube netcoaching is a long-term tube weaning programme led by medics from the continent which, over the course of more than 30 years in medical practice, has helped more than 3,000 infants.
The method, which boasts a 90.5% success rate, is based on two principles – allowing the child to feel hungry and to take the lead.
The £4,000 programme is specifically tailored to each child's condition, background and needs and works to reduce mouth aversion and eliminate anxiety around food to make eating an enjoyable experience.
Grant added: "It's crazy that a course not available here (on the NHS) has prevented Henry from having to get surgery."
Henry's problems with eating stem back to his difficult start in life, when he was diagnosed with in-utero growth restriction and was delivered by Caesarean section at 29 weeks.
Weighing just 1lb 9oz and unable to breathe on his own, he spent his first five months in the neonatal unit at Aberdeen Maternity Hospital.
Henry was ventilated from birth and struggled through several infections, brain bleeds, high blood pressure and chronic lung disease. But eventually the little fighter was weaned off the life support machine and went home with parents.
After just seven weeks, Henry caught Respiratory Syncytial Virus (RSV) – an infection of the lungs and breathing passages – and he was readmitted to hospital so doctors could tend to his dehydration and increasing oxygen requirements.
The Evening Express revealed in October the family were fundraising, and just one week later they had reached their target.
Lauren said: "We never dreamed that we would raise as much as we did. We are truly overwhelmed by everyone's kindness and support.
"It has given us the best gift anyone could ever imagine as it has given us the chance to help our little boy, in ways that nobody else could."
Lauren has now started a video diary on YouTube to keep family and friends up to date with Henry's progress.
She said: "We wanted to start a YouTube channel as a way to give something back to those who have helped us in so many ways. We wanted to physically show Henry's progress and improvements as a way to show everyone just how they have helped.
"We also want to spread awareness to others in similar situations as we really struggled to find the help we needed and were approaching surgery.
"I have made it my aim to connect with others and show that there is an alternative."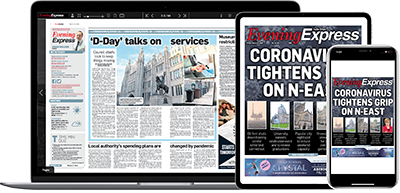 Help support quality local journalism … become a digital subscriber to the Evening Express
For as little as £5.99 a month you can access all of our content, including Premium articles.
Subscribe