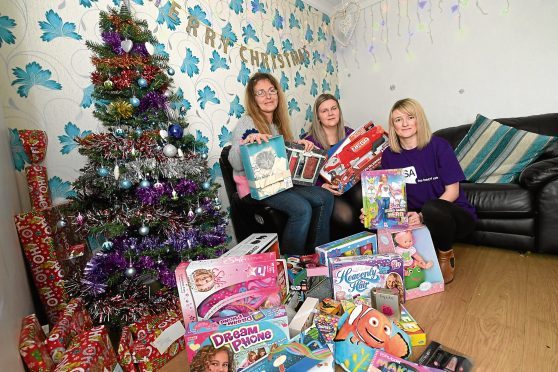 A family whose festive gifts were stolen by heartless thieves have had their Christmas saved by kind-hearted helpers.
Mum-of-three Jeannie McAllister was left devastated after criminals ransacked a shed at her home on Powis Place, Aberdeen, and stole £2,500 of presents that were meant to be for her children Zach Joss, 7, Abigail Joss, 8, and Zara Finnie, 27.
Miss McAllister shelled out on the gifts as she had undergone brain surgery in November and feared she would not survive to see Christmas.
"I wanted to ensure that, if I wasn't around, the children would have a great Christmas and would know that I had made them happy," said Miss McAllister, 45.
As her insurers are unlikely to be able to settle her claim by Christmas Day, Miss McAllister had been facing the prospect of having no presents for the children – until the Aberdeen-based VSA charity saved the day.
After reading the family's story in the Evening Express, VSA bosses sprang into action and picked out a collection of 40 gifts for the children – and they were delivered by the charity's representatives to a "gobsmacked" Miss McAllister.
She added: "When I saw them at the door I wondered who they were and, when they told me where they were from and I saw all the presents, I couldn't believe it.
"I was absolutely gobsmacked. To think that strangers would help my family in this way is overwhelming and I cannot say 'thank you' enough."
The toys include LEGO, wrestling figures, toy cars, dolls and a nerf gun.
The VSA also provided cinema tickets so the family can enjoy a day out at Cineworld this weekend.
"This has completely turned things around for us," said Miss McAllister, who is unemployed.
She added: "We were all down in the dumps because of what happened. We wanted to keep the children's spirits high but it has been hard. It is wonderful that organisations like VSA are there to help people."
Established in 1870, VSA has helped thousands of the most vulnerable people and their families living in communities across the North-east.
VSA has four service areas: children and families, adult and community, education and learning and carers' support.
VSA head of fundraising Jennifer Mitchell said: "Jeannie and her family have had a very difficult year and with thanks to everyone who supported our appeal, we have been able to bring back some joy to Jeannie and her family this Christmas."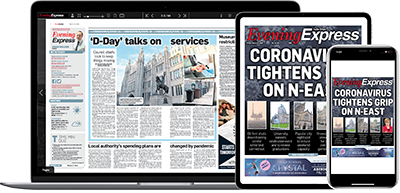 Help support quality local journalism … become a digital subscriber to the Evening Express
For as little as £5.99 a month you can access all of our content, including Premium articles.
Subscribe