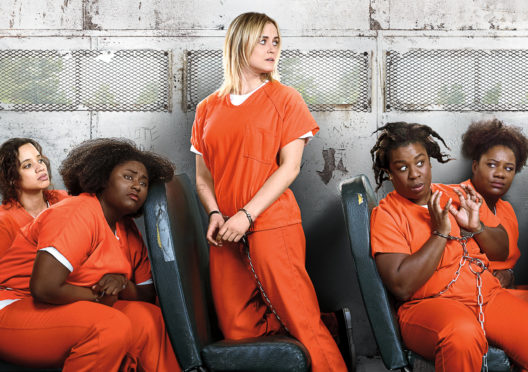 Inmates at a north-east superprison are big fans of a hit TV show – about life in prison.
While not working or studying, inmates at HMP Grampian can borrow DVDs and books from the prison library – and among their most coveted box-set this year is Netflix blockbuster Orange Is The New Black.
The show tells the story of an otherwise law-abiding woman who finds herself locked up in a US penitentiary, making pals and enemies along the way.
And the Grammy Award-winning comedy drama was not the only prison drama that HMP Grampian inmates love.
The list shows the most borrowed DVD is the fifth season of fright-filled box-set American Horror Story, followed by the seventh series of Game of Thrones and crime thriller Banshee.
Car adventure Fast and Furious 8 was next on the list, joined by Wonder Woman, Spider-Man, The Mummy and Orange Is The New Black. They also enjoyed watching Hannibal – about a criminal profiler and psychiatrist Dr Hannibal Lecter.
Among the books most borrowed from the prison library in 2018 is The Parkhurst Years – Bobby Cummines' book about life behind bars.
---
---
Provided by Aberdeenshire Council, which supplies books and DVDs to the library, the list shows what tickled the fancy of prisoners in 2018. The four most-borrowed books were all dictionaries, followed by the Parkhurst Years.
Patrick Moore's Atlas of the Universe also features, as does Stuart MacBride's Aberdeen-based crime novel Blind Eye.
Eight of the books on the list, such as I Love My Daddy, are children's books, as youngsters can borrow books while visiting loved ones.