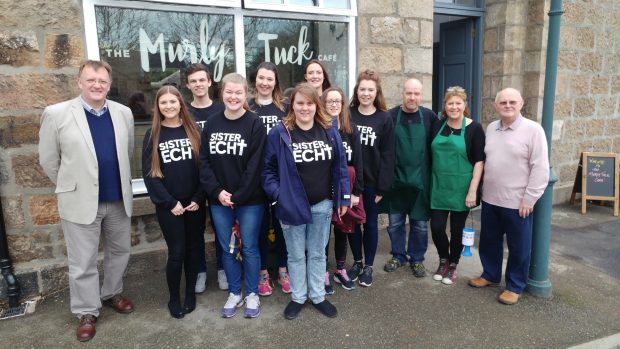 A former GP surgery has been transformed into a community cafe.
It's hoped The Murly Tuck in Tarves, which is within a community hub, will bring new life to the village, following funding from a development trust and the Aberdeen Student Charities campaign.
The new local facility created by Tarves Development Trust, which received around £60,000 in total, is beside the Tarves Heritage Centre and one of more than 30 projects being supported this year by Aberdeen students via their Raising and Giving fundraising campaign.
The official opening is scheduled for Monday and has been met with great anticipation and positivity from the local community.
The wife of the late Dr Laing, who originally founded the former Tarves surgery, also plans to attend.
The idea for a community cafe originally came about thanks to husband and wife duo Gill and Alfie Gray, who gave up their jobs to run the cafe.
Gill, 55, said it was now or never to open the facility.
She said: "It was a big decision but we thought, if we don't go for it now then we never will."
As the building holds a lot of importance in the local community – as well as the GP surgery it has previously been a school, a shoemaker's and a motorcycle repair shop – Gill hopes to pay homage to that history.
She said: "We plan to have old black and white photographs of the building as a school around the cafe, as well as old motorcycle parts."
The Murly Tuck also aims to create more job opportunities for those under 18 in the village.
Gill, who used to work in mental health, said: "We would love to offer supported employment for a young person in Tarves."
Tarves councillor and Tarves Development Trust member Paul Johnston said: "We were extremely grateful for the donation from the Aberdeen Student Charities campaign – this allowed us to complete the funding, especially the disabled access arrangements.
"Their donation will ensure our venture is a success."