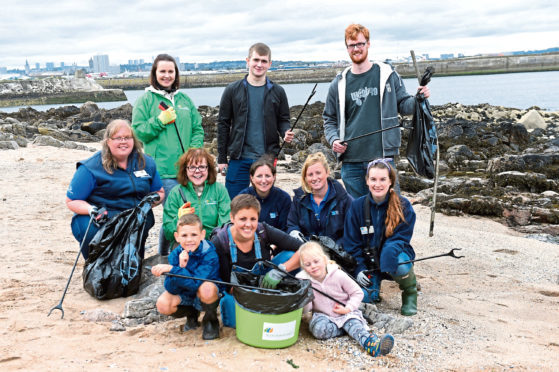 Clothes and scrap metal were among the items found during a clean-up operation at an Aberdeen beach.
Volunteers turned out to take part in the beach clean at the Torry Battery.
Plastic bags, straws, fast food packaging, clothing and discarded metal were among the materials found and collected during the effort, organised by RSPB Scotland as part of its Dolphinwatch project.
The initiative is co-funded by the ScottishPower Foundation and aims to make people aware of marine wildlife conservation.
Sadie Gorvett, Dolphinwatch community events officer for RSPB Scotland, said: "It's great to see such an enthusiastic turnout for our Dolphinwatch beach clean and it shows that people are on board with protecting local wildlife.
"This weekend's activities mark the end of our viewing programme for the season, which has celebrated how easy it is for local residents and visitors to the city to enjoy watching the local pods of bottlenose dolphins leap, play and surf the waves.
"We're extremely grateful to the ScottishPower Foundation for supporting the initiative, which is giving people in Aberdeen the chance to get involved with our conservation work and will help protect the area and its amazing wildlife."
More than 3,000 visits have been made to the coastal vantage point at Torry Battery since Dolphinwatch launched in May to learn about and catch a glimpse of the harbour's abundant wildlife.
In addition to the sociable pods of bottlenose dolphins that regularly visit the harbour, visitors have been treated to sightings of ospreys, puffins and even minke and humpback whales in their natural habitat.
Ann McKechin, trustee and executive officer at the ScottishPower Foundation, said: "The beach clean is a fantastic example of everyone coming together to help protect the habitats of the incredible wildlife that lives in this part of Scotland.
"We're delighted to help support the RSPB Scotland Dolphinwatch programme and you can already see a deep connection with marine wildlife.
"The foundation is very much looking forward to seeing young people become inspired to look after as well as experience nature in the Aberdeen coastal area later in the year as part of the school engagement programme."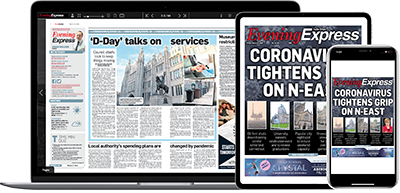 Help support quality local journalism … become a digital subscriber to the Evening Express
For as little as £5.99 a month you can access all of our content, including Premium articles.
Subscribe