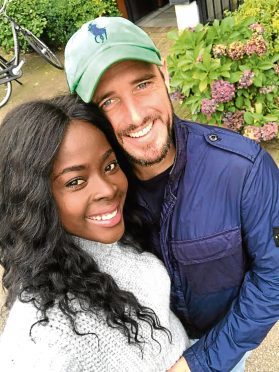 An engineer employed by an Aberdeen oilfield firm today claimed he could have been thrown into an African jail due to a work permit mix-up.
Danny Coffey worked in Ghana for Aberdeen-based Wood Group for three years, but has now been banned from working there again after it emerged he never had the proper paperwork.
Wood Group has launched an investigation and expressed "serious concerns" about what happened to Mr Coffey, who said it has left him 5,000 miles from his fiancee, Suzette Asare, 26.
Mr Coffey, 36, said: "This whole thing means I cannot work there and see her and it's hard for her to get a visa, so I don't know how long we will be apart."
He added: "I was so upset when I found out.
"It is crazy to think that I could have been arrested, thrown in jail and deported at any time in the last three years.
"Wood Group needs to act to ensure it doesn't happen to anyone again."
Mr Coffey started working for Wood Group in Ghana – contracted to Tullow Ghana Limited (TGL) – in 2014 and, when that job ended, he had lined up another three-year contract with the African firm, MODEC Ghana.
It was only when that company refused his work permit that he discovered he had not had valid paperwork for the entire three years he was in the country.
Mr Coffey said: "I had a visa to enter the country, but no work permit was ever issued for me to legally work in Ghana.
"I feel Wood Group has completely failed me."
According to guidance on the UK Foreign Office website: "Overstaying in Ghana without the proper authority can lead to detention or refused permission to leave the country until a fine is paid."
In an e-mail seen by the Evening Express, a MODEC Ghana employee said the work permit application was "definitely not going to be approved … due to you previously working in the country without a valid work permit for TGL."
In another e-mail, a Wood Group employee says: "This sounds very concerning because Wood Group's policy is to ensure that all employees working overseas are on the correct paperwork."
And in further correspondence with the Aberdeen firm, a senior member of staff tells Mr Coffey: "We are very concerned about this and have launched an internal review into what visa/work permit documents you were issued when on assignment in Ghana."
Mr Coffey, who is currently living in Leeds until the work permit mix-up has been resolved, said: "This error means that I could have been arrested at any time during the three years in Accra.
"It also leaves me with the choice of going to Ghana to be with my fiancee but not being able to work, or staying in the UK to work and being without her.
"We are in the process of building a house in Accra, and I am now not likely to see that any time soon."
He added: "From a financial point of view, it means I have been unemployed since September.
"My reputation in the industry is also damaged and I'm now in financial hardship, having not worked for five solid months.
"I will be seeking legal advice as I feel completely let down by Wood Group.
"My future is now uncertain, both on a business and personal level."
The Wood Group spokeswoman said: "It would be inappropriate for us to comment on individual employees."