A twinning agreement between a north-east seaside town and a Paris suburb is to be signed.
Stonehaven and District Community Council (SDCC) has been working for the last two years to bring the agreement between the town and Acheres in France.
The linking up with Acheres will be Stonehaven's first twin town venture and it is hoped the relationship will help nurture cultural, business and sporting ties and lead to a growth in tourism.
Led by SDCC chairman Phil Mills-Bishop, a delegation of six have travelled to Acheres to sign the concordat to link the communities.
It will happen during a festival of events in France this weekend.
Mr Mills-Bishop said: "It has been two years of work to get to this stage and for the agreement to be signed.
"A lot has gone into it, with a delegation visiting here beforehand and having seen the itinerary for the weekend, I am surprised at the level of work and detail that has been put into it.
"Schoolchildren from the local school are set to sing the national anthem for us at the end of the signing tomorrow."
The delegation will meet Mayor Marc Honore and some events have already been lined up to promote ties between the two.
Pupils at Dunnottar have made paper thistles to be handed out by the group.
Mr Mills-Bishop added: "This isn't the end of our work – in fact, it is only the beginning. Like any good relationship, we will have to work at this and see what we can do together to promote both of us.
"We will set up a new steering group that will have community council involvement, but its main priority will be strengthening ties.
"I'm very happy with where we are with the twinning and the thing I have got out of it the most is the overcoming negativity.
"There were a few people when we had the idea that said it couldn't be done and we have overcome that and everyone is excited with what lies ahead."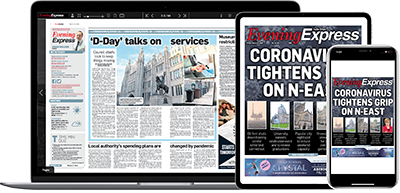 Help support quality local journalism … become a digital subscriber to the Evening Express
For as little as £5.99 a month you can access all of our content, including Premium articles.
Subscribe