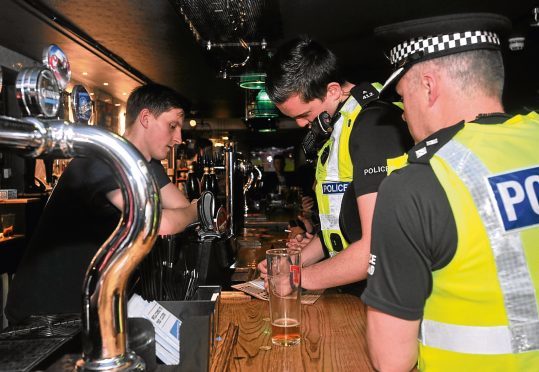 Nightclub and bars in the city centre have been put through their paces by police as the student influx into Aberdeen began.
A total of more than 3,000 freshers are starting their studies at the University of Aberdeen and Robert Gordon University in the next fortnight and many were out partying well into the small hours this morning.
To make sure pubs and clubs are geared up for the three-week freshers' period, police officers carried out a series of unannounced visits to quiz staff on preparedness – and the Evening Express went along with them to see their efforts in action.
Accompanying Police Scotland's North-east division licensing inspector Kenny McGeough and Pc Kieran Russell, we called into the Triple Kirks pub in Belmont Street, where duty manager Finn Munroe-Gear passed the test with flying colours, having been asked about the venue capacity, security cameras, ID-checking procedure and other measures.
Finn said: "We tend to be fairly busy during the freshers' period and it gets even busier once word of mouth spreads about how popular the bar is and then more students come along.
"Police come round at least every Friday or Saturday night to do a licence check here.
"It's reassuring to us.
"We know that, if we give them a shout, they are there for us."
The next stop was Steinhaus – formerly Campus – on Windmill Brae, where Pc Russell quizzed trainee assistant manager Corey Craig on several licensing questions, which he answered confidently.
Corey said: "It's good to welcome the police in when they come.
"They are always very reliable and you know they are always going to be on your side, whether it be with a drunk client or whatever.
"The paperwork associated with licensing is very straightforward.
"It's a black-and-white issue and you do expect the checks to happen."
The checks continued at Prohibition in Langstane Place, where assistant manager Kerry Phillips was happy to chat with the visiting officers.
"You just get used to the checks. They tend to happen once a week.
"It's definitely a good thing to know there's a police presence in the city centre," said Kerry.
The final stops of the evening patrol are a taxi rank to ensure vehicles are in order and, last but not least, several fast-food takeaways with late-opening licences.
Insp McGeough said:"It's very reassuring to hear the positive feedback that we've heard from licensees tonight, though not surprising.
"At a time when there are thousands of freshers in the city centre, who may not necessarily know where to go and which areas are the better areas to visit, our positive working relationship with licensees helps."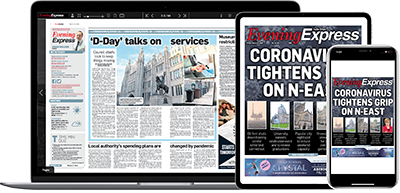 Help support quality local journalism … become a digital subscriber to the Evening Express
For as little as £5.99 a month you can access all of our content, including Premium articles.
Subscribe