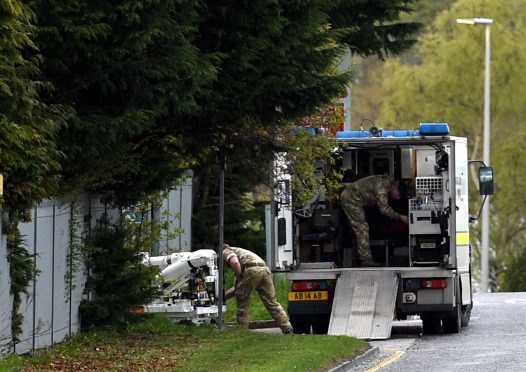 A smoke grenade and dummy mortar caused a bomb scare at a recycling centre that saw the area sealed off for more than four hours.
SITA UK and the surrounding area on Aberdeen's Pitmedden Road was cordoned off for a number of hours following the alert.
Aberdeen City Council contacted Police Scotland at 3.05pm yesterday after two suspect items were discovered.
It was later confirmed the discovery was a decommissioned military ordnance.
A force spokesman said: "They phoned in advising us there were a couple items in the skip they were unsure of. We went in there with an explosive ordnance disposal unit which assessed these items.
"They could have been construed as ordnance. The recycling centre was sealed off, and the road around it."
A bomb disposal unit took more than three hours to travel up from Edinburgh, arriving at about 6.30pm.
A number of offices surround the centre, but workers were allowed to leave.
Emlyn Corbett is employed nearby and saw the drama unfolding at around 4pm.
The 27-year-old, from the city centre, said: "I was just leaving work and saw police at the gates.
"I wasn't sure what was going on, but it looked very peculiar. It's not something you see every day – a skip being cordoned off by police – especially in a quiet suburb like Pitmedden Road.
"It's mostly industrial workers.
"I'm very surprised the bomb squad was there."
Speaking about the swift action by the force, the health and safety adviser added: "They've definitely taken the right steps. The priority has got to be the safety of people in the surrounding area.
"It's good they have acted so quickly, however it would have been nice if they had let people in nearby offices know sooner.
"When I was leaving there was no word of anything untoward going on, which is why it was so shocking to see."
After about four hours it was found that the items were a smoke grenade and dummy mortar. The road was reopened soon after
Cllr Barney Crockett, who represents the area, said: "It's not what you expect to find in a skip in Aberdeen.
"I'm sure there will be inquiries as to how it came about.
"The relief is that anything untoward was noticed and action was taken, I'm sure safety levels are kept very high.
"It shows you always have to be vigilant, so well done to the people who have reported it.
"I'm really pleased no one was hurt in the end.
"I've never heard of anything similar happening like this in a waste disposal centre.
"I hope that everybody's careful and makes sure nothing untoward is going on in the area."