An Aberdeen writer has been awarded a prestigious scholarship to pen a novel about the life of a renowned north-east fashion designer.
Shane Strachan has been announced as the recipient of this year's Robert Louis Stevenson (RLS) Fellowship.
As a Fellow, Shane will receive a residency at Hotel Chevillon International Arts Centre at Grez-sur-Loing in France, along with travel, accommodation and living costs.
The 29-year-old will use the opportunity to write about Bill Gibb – a farm boy from Aberdeenshire who went on to design dresses worn by Elizabeth Taylor, Bianca Jagger and Twiggy in the 1970s.
Gibb, of New Pitsligo, was educated in Fraserburgh Academy before moving to London to attend Saint Martin's School of Art.
The designer died in 1988, aged 44, after a battle with colorectal cancer. Shane said: "It's something of a dream come true to have been offered an RLS Fellowship, especially at this pivotal time in my career when I needed this support, and confidence boost, to transition from writing short to long-form fiction.
"To have been granted devoted time to work on a project that I am highly passionate about really is a gift and I can't wait to head to Grez-sur-Loing and get writing.
"Bill died the same year I was born, so I've always felt an affinity with him. I hope to have at least the first draft finished during my fellowship."
Most of Shane's work is inspired by the north-east of Scotland and its relationship with the wider world and he often writes in Doric.
Shane's PhD thesis, which focused on cultural loss and change in the north-east's fishing communities, went on to be shortlisted for a Saltire Literary Award.
This year he was chosen as a mentor for Queer Words Project Scotland and he has also received a Muriel Spark 100 funding award to create new short stories inspired by Spark's time in Bulawayo, Zimbabwe.
Shane studied English literature for his undergraduate degree at Aberdeen University before undertaking a Masters and PhD in Creative Writing.
Four fellows are named annually and this year's other recipients are Jenni Fagan, David Keenan and Theresa Munoz.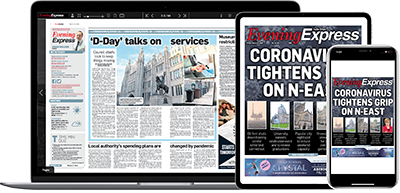 Help support quality local journalism … become a digital subscriber to the Evening Express
For as little as £5.99 a month you can access all of our content, including Premium articles.
Subscribe