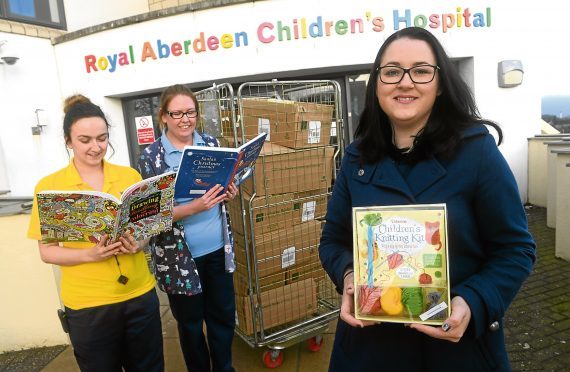 A North-east mum has acted as Santa this year after fundraising to buy every child staying in a Aberdeen hospital a book for Christmas.
Tegan Kemp, of Portlethen, dropped off £2,000 of books to the Royal Aberdeen Children's Hospital (RACH) on Wednesday to play services manager Heather Beattie.
The mum-of-two, who runs the Usborne Books online store Mrs K's Little Bookshop, dreamed up the generous giveaway earlier this year after her daughter Esme, 2, spent time there.
Esme had a difficult start to life after arriving early and having breathing issues. Shortly after she contracted viral meningitis and flu.
Tegan, also mum to Cooper, 11 months, had originally aimed to raise £600 – which is the 80 beds in RACH multiplied by a spend of £7 per child – but, thanks to 45 generous donations to her online fundraising page, her total reached £1,260.
This was boosted further after Tegan donated her commission, and Usborne Books pledged an additional 60% free spend on the order.
She said: "I'm truly overwhelmed by the support from our friends, family and wider community in raising this money.
"I was hoping we could perhaps order 80 books to ensure each child received a gift for Christmas. Now we're delivering more than 300.
"The RACH staff always work incredibly hard to get as many children as they can home for Christmas, so we're delivering the books early to make sure they're given out before patients start going home. I know the staff at RACH will enjoy having gifts to give out to their patients. This, as well as the happiness that the books will bring to the kids, makes all the effort worthwhile."
RACH play specialist Wendy Joss said: "This donation means a lot – the people of Aberdeen have been so generous."
Play services leader at the ARCHIE Foundation Megan Davidson said: "Books add a sense of normality for the children in hospital over Christmas, it reminds them of home."
Tegan, along with husband Roy, hopes to do similar fundraising activities next Christmas.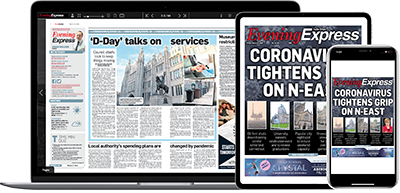 Help support quality local journalism … become a digital subscriber to the Evening Express
For as little as £5.99 a month you can access all of our content, including Premium articles.
Subscribe