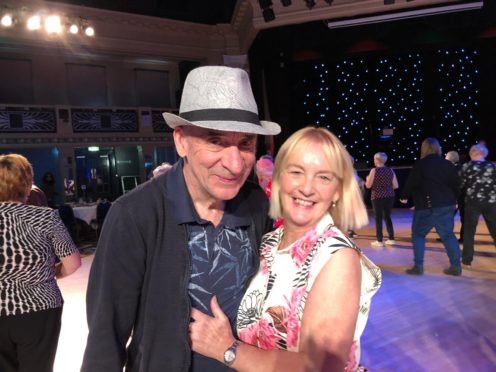 An Aberdeen woman has created a virtual "Boogie in yer Living Room", which promises to keep people dancing during the lockdown.
Anne Duncan, 66, was determined to keep her popular event, Boogie in the Bar, going throughout the pandemic.
The event which is described as "disco dancing for older folk", has gained a huge following since Anne set it up over three years ago.
The Bridge of Don resident says her and husband Bill, 72, were inspired to create the unique meet-up after they realised there was a gap in the market.
Each "boogie" is disability and dementia friendly, and sees people from all walks of life attend the monthly events across the north-east, for disco dancing and free food.
However, when social distancing put an end to their regular boogies, she decided to keep it going by other means.
She said: "We average 60 people a month and there's about 17 Boogie in the Bar's in different locations across the north-east.
"All of them are very successful in their own right and of course it's come to an end so lots of people were getting in touch to ask is there nothing you can do."
Thankfully, Anne's son Colin Harris, 40, stepped in – making Boogie in the Bar available virtually during lockdown.
The sound engineer set out to help his mum put the idea together, and the first episode was aired successfully on YouTube on Monday afternoon.
Almost 200 people have watched the first Boogie in Yer Living Room so far.
She said: "He's put a lot of work into it using all of the footage and clips that we've taken over the years.
"The whole idea of this is trying to connect with our boogie family again.
"For people who can watch it on a smart TV, it's really good because that's what we did, and we felt that we were as close as we could be to being at a boogie again.
"Because watching it on the big screen you see all the people that you know and everybody's dancing and we're just in the living room dancing with them.
"It kind of feels like we're there."
Her son creates a playlist of 70s disco music for each video, in order to create something fresh each week.
And two of the events regular DJ's will also feature on the videos, as they are sending in clips of them at home, which sees them mimic their usual performance.
She said: "We're also asking people to send in either any video footage that they've got themselves of boogies, or pictures of themselves dancing at home in their living room."
All boogie events are dementia friendly, as Bill suffers from the disease himself.
Last year, the couple married for a second time as Bill had sadly forgotten that he had  married Anne 12 years prior – instead believing that his wife was a new girlfriend.
She said: "Bill and I always loved to dance and even with Bill's dementia we could still dance.
"We always kept the dancing and the music up.
"At a friend's party we were dancing, and I thought why is it we have to wait for a wedding or special birthday to be able to do this."
Just six weeks after this thought, Boogie in the Bar was born, and The Foundry pub in Aberdeen agreed to host the very first event after realising its appeal.
And while Anne is looking forward to getting back to their usual Boogie in the Bar, she is confident that Boogie in yer Living room will prove to be a great success and an entertaining alternative in the meantime.
She said: "For a lot of people Boogie in the Bar has been a lifeline.
"When I had this idea over three years ago I never imagined in a million years that it would evolve into what it has.
She added: "People can watch it again and again.
"If I feel Bill's a bit restless then I can just put this on and for half an hour we've got all our boogie songs.
"We can see the people dancing, we've got the DJ and we've got the music. It's lovely.
"Get onto the Youtube page and have a bop!"
The Feelgood Feed: Stories to lift your day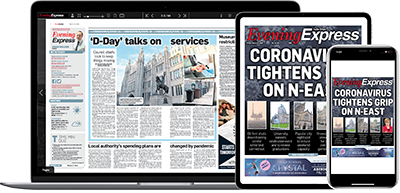 Help support quality local journalism … become a digital subscriber to the Evening Express
For as little as £5.99 a month you can access all of our content, including Premium articles.
Subscribe