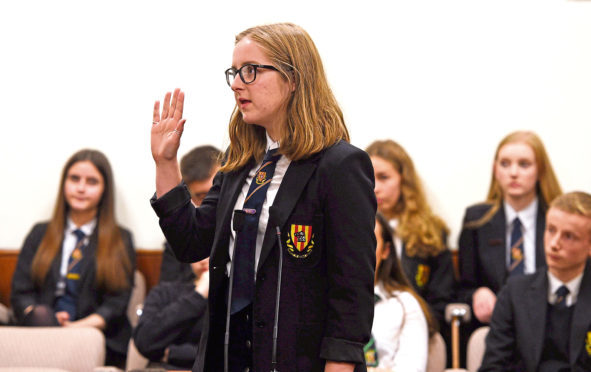 Young people got the chance to become lawyers, witnesses, court staff and jurors as the mock trials competition hit its ninth year.
Alford Academy, The Gordon Schools Huntly, Kemnay Academy and Mackie Academy all took part in the competition held at Aberdeen Sheriff Court.
Pupils get details of the cases – including breach of the peace and vandalism – beforehand, including all the witness statements and they come up with statements and prepare witnesses.
Lynda Swanson, head of humanities at Mackie Academy and organiser of the event, said it is "hugely motivating" for pupils to take part in.
She added: "Most of them build skills of confidence, teamwork and they've got to analyse, problem solve and develop critical thinking skills.
"They're not all planning to do law but for those who are, it gives them a taste of what courtroom law might be like."
Ms Swanson said the event is also "hugely important" for pupils when applying to universities.
---
---
Sixth year Mackie Academy pupil Charlie Murray took part in the event as a defence lawyer, with her team preparing for around a month.
The 16-year-old said she has "always" had an interest in law and politics, passed down from her father, who is a lawyer.
She added: "It's definitely an option for a career. I'm wanting to apply to do law at university."
Fifth year pupil Katie Clark, who took part in the event for the first time as a prosecution lawyer, said she also wants to pursue law.
The 15-year-old said: "I thought it would be a good way to see what it's actually like in the real world. It's a really good opportunity to speak in a public place."
Meanwhile, Sadie Crooke from Alford Academy is also considering the legal profession.
The 16-year-old said: "It's a good option to look at different career choices and also I get a bit nervous around public speaking, so I thought why not try and do something that's a bit out there."
Mackie Academy was crowned winners of the event after facing off against The Gordon Schools Huntly.
The best lawyer was Lily Sierakowski from The Gordon Schools, while the best witness was Robert Howie from Kemnay Academy.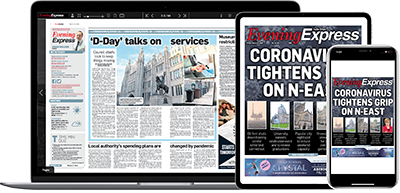 Help support quality local journalism … become a digital subscriber to the Evening Express
For as little as £5.99 a month you can access all of our content, including Premium articles.
Subscribe