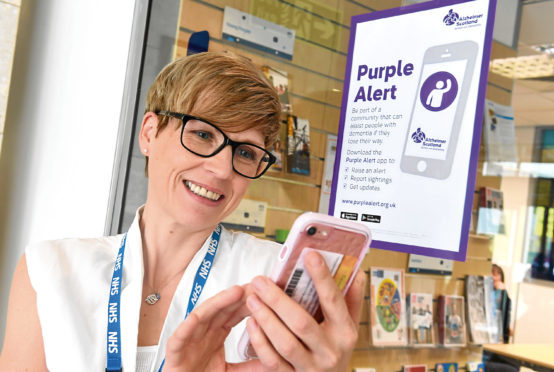 NHS Grampian is encouraging people across the North-east to download a new app designed to help those suffering from dementia.
The "Purple Alert" app, which is also backed by Police Scotland, alerts members of the community when a person with dementia loses their way and becomes separated from their loved ones, friends or carers.
NHS Grampian and Alzheimer Scotland dementia nurse consultant Lyn Irvine said: "Staying independent within the community is very important for the well-being of people with dementia.
"This freedom can sometimes come with risks – bustling high streets, shopping centres and busy parks can quickly become overwhelming for some people with dementia and they might want to get away from the high noise levels or overcrowding.
"That can lead to people becoming lost or disorientated and is one of the biggest concerns we hear from people living with dementia, their families and their carers.
"This app is aimed at helping to change that."
The app was specially designed by people living with dementia alongside Alzheimer Scotland.
It uses GPS technology to send an alert to all users within a 30-mile radius and reports sightings.
Lyn said: "It has already been a big hit with people living with the condition, families, carers and volunteer agencies but for it to be truly effective we need members of the wider public to do their bit by downloading and installing the app.
"Purple Alert gives people across the North-east the chance to do their bit for the local community by being the eyes and ears for those affected by the condition.
"It's really straightforward to use and it only takes a minute to download and install the app on your phone and it's available free for iPhone and Android phones."
The Living Well Project was set up in 2010, with the aim of supporting isolated and vulnerable people in Aberdeen. The initiative runs the Living Well Cafes, which provide social support for those affected by memory loss and dementia, their families and carers.
The project currently has four cafes around the city which run on alternate Tuesdays at Newhills and Oldmachar Churches, and on alternate Thursdays at Ferryhill Parish Church and High Church Hilton from 1pm to 3pm.
Jeanette Abel, who works in the cafe, said people who use the facility have used "trackers" in the past and welcomed the call by NHS Grampian to promote the newly-launched app.
She said: "It means if someone goes out for a walk, you put the tracker in their pocket and the husband or wife can track where they are.
"If the person is longer than you think they're going to be then you can track where they are and send out a rescue party.
"People think they're absolutely great, especially when the person is known to wander. Anything that is going to help keep people safe is a good thing."
The app replies on a community of users signing up to use it in all locations across Scotland.
Alzheimer Scotland hopes the app will be used by a large percentage of the adult population as well as businesses, voluntary organisations and charities.
When individuals sign up to the app, all their details are completely private and a missing person profile can only be viewed by people logged onto the app.
Consent must be obtained from the person with dementia before their personal information can be shared through the app.
Alzheimer Scotland helped develop the app after working with people living with dementia and their carers and discovering that the issue of most concern was people with dementia losing their way.
To find out more about Purple Alert or to download the app, visit purplealert.org.uk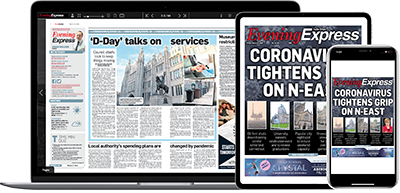 Help support quality local journalism … become a digital subscriber to the Evening Express
For as little as £5.99 a month you can access all of our content, including Premium articles.
Subscribe