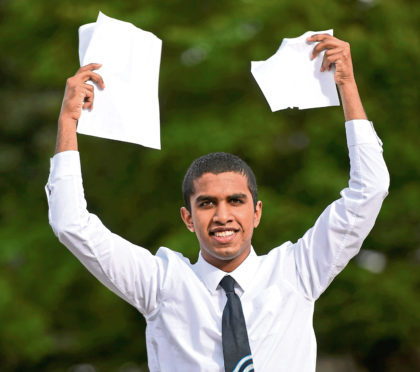 Pupils across the north-east were jumping for joy after attaining top-class results in their exams this year.
More than 135,000 pupils across Scotland waited anxiously for their results to come through by text, email and letter, for Nationals, Highers, Advanced Highers and Scottish Baccalaureates yesterday.
Fifth year St Machar Academy student Joel Shaju had more to celebrate than most, getting five A-grade passes for his Higher exams.
The 16-year-old sat exams in physics, chemistry, maths, physical education and engineering science.
He said: "I am feeling really good – I was extremely nervous beforehand. It was a big relief when I learned my results."
Joel is planning on staying on for his sixth year at school before going on to university.
He said: "I'm hoping to stay in Aberdeen and study either engineering or maths.
"I studied very hard for my results but I also think it's important to take subjects that you enjoy because it makes it so much easier to work hard."
Miles Toon, who also attends St Machar Academy, achieved four As and a B in his Highers.
The 17-year-old said: "I am over the moon. I was so stressed while I was waiting."
Miles had exams in RMPS, English, modern studies, biology and music – which he sat in a year.
He said: "I wanted to do a good mix of subjects.
"I worked really hard but I also had a lot of support from my teachers.
"I'm going back to school for sixth year but after that I'm hoping to go to Aberdeen University to do religious studies."
In Aberdeen, 17,074 exams were sat, compared to 17,526 last year – with education chiefs revealing pass rates had remained around the same level.
Aberdeen City Council said there "has been a noticeable improvement of S4 pupils attaining five or more awards (A-C) at National 5".
It is the third year in a row that Aberdeenshire has seen at least one young person achieve five A-grade passes at higher in every secondary school.
Daniela Moskaliovaite, 17, of Peterhead Academy, achieved five As in her Highers despite only moving to Scotland from Lithuania two years ago. She said: "I love learning so I think that helped me get the grades I did.
"I will be going to Aberdeen University next year to study maths – it's my favourite subject."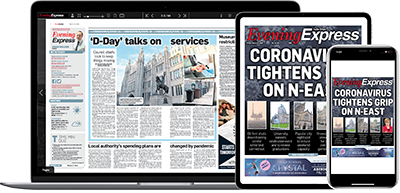 Help support quality local journalism … become a digital subscriber to the Evening Express
For as little as £5.99 a month you can access all of our content, including Premium articles.
Subscribe