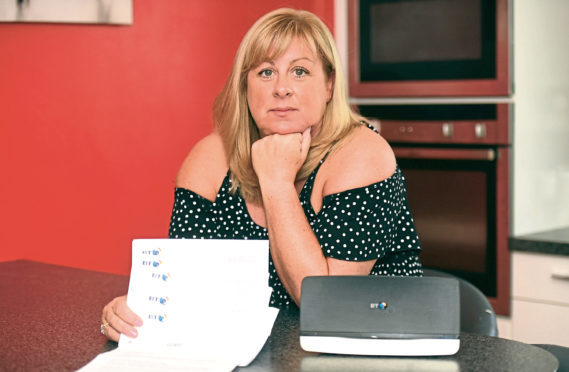 A woman left without internet and a landline phone for more than a month has had the service restored after the Evening Express intervened.
Jill Grant said her household was disconnected on August 2 after BT claimed her phoneline was being taken over by another company – leaving Jill, husband Derek and children Kristi and Jodi with no landline or internet.
The family had been told it would take around eight weeks for the line to be reinstated – but BT sped up the process after the Evening Express intervened.
The mobile hairdresser, who lives in Tarves, said: "I'd like to thank the Evening Express – the reconnection happened more quickly after the paper got involved.
"This isn't the first time it's happened. In 2016, BT disconnected the line and said someone was trying to take over our line.
"It took them eight weeks to reconnect us and gave us £60 as compensation.
"I've been living in this house for the past 30 years and have been with BT for the past 30 years – we have never changed the line."
The 48-year-old said the lack of internet and phone disrupted her business, especially for her older clients who prefer to contact Jill on her landline.
She added: "My 17-year-old daughter Jodi just started college for the first time and because we didn't have internet she missed the email of the change of time for her first day.
"She nearly lost her spot at college because of it."
---
---
Jill said BT told the family they would be reconnected again on August 31 but were not. They were then told the problem would be resolved on September 25 – nearly eight weeks after the initial disconnection – but the repair was moved forward after the Evening Express contacted the firm.
The family was forced to fork out for a portable wifi device to stay online.
Jill said: "As soon as I got the letter saying we would be disconnected, I phoned six times so that what happened two years ago wouldn't happen again."
Jill added BT had offered to compensate her family.
A spokeswoman for BT today apologised for the problem. She said: "We've looked into this and can confirm Mr and Mrs Grant's phoneline was reconnected.
"We are investigating how this error occurred. We apologise for the inconvenience, and we're speaking to them to arrange a gesture of goodwill."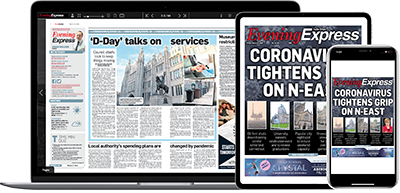 Help support quality local journalism … become a digital subscriber to the Evening Express
For as little as £5.99 a month you can access all of our content, including Premium articles.
Subscribe