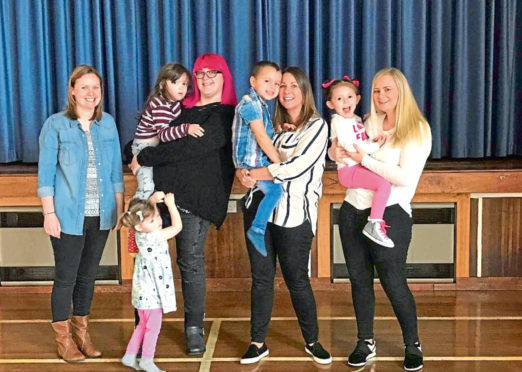 A north-east mum has spoken of the power of peer support after setting up her own family group.
Joanne Wilson, 34, had previously felt isolated in caring for her four-year-old daughter Emelia, who lives with a rare condition called GA1.
GA1 is a serious inherited condition that means the body can't process certain amino acids – "building blocks" of protein – and this causes a harmful build-up of substances in the blood and urine.
Left untreated, children with GA1 are at risk of brain damage that can affect muscle movement and may, in turn, lead to problems with walking, talking and swallowing.
Speaking to the Evening Express last year, Joanne had expressed her hopes of Emelia joining a mainstream school.
Now Emelia is a pupil of Ellon Primary's nursery. And Joanne has found solace in her fellow parents and set up the Ellon and District Family Support Group to help families of children with additional support needs (ASN).
She said: "Emelia was accepted into nursery and the staff and children there are amazing. The teachers try to make sure she is included with everything and the kids are so good to her.
"When she was invited to her first birthday party I cried, because I didn't think we would ever get here."
---
---
The nursery held a coffee morning and invited the parents of children with ASN to share with other parents how best to explain their youngsters' differences to their children.
The Auchnagatt resident said: "We explained our children's needs with the other parents so that they could go home and, in their own words, explain to their children how best to accommodate their needs.
"For example, one child might have problems with spacial awareness so other parents can remind their kids why it's important to shut doors."
Joanne, also mum to Summer, 12, was inspired to launch the support group, held at Ellon Primary, with the help of other mums. It offers a casual and non-judgmental space to socialise.
She said: "It's a space where, once a month, parents can come and socialise. They can talk about their experiences if they want to, but there's no pressure. Socialising like this, and with my new part-time job in The Chocolate Bar, I feel like I'm finding 'me' again.
"It gives me something to talk about with my friends. It means a lot to me."
Though Emelia is making progress at school, the family are hoping to raise money for possible stem cell treatment in Europe to treat her dystonia – a secondary condition that causes uncontrolled muscle cramps and spasms.