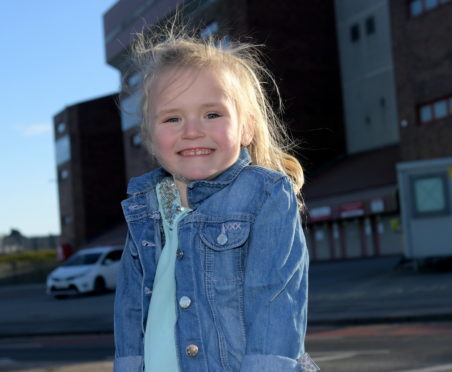 A North-east mum whose seven-year-old daughter underwent surgery to fix a hole in her heart has thanked the "phenomenal" doctors that gave the youngster "her childhood back".
Lynette Sangster's daughter Layla was diagnosed with her condition during a routine check-up to treat a rash.
Layla underwent keyhole surgery at Yorkhill Hospital in Glasgow on March 21 where doctors put metal discs in place to seal the hole.
Lynette, a full-time mum from Kemnay, said: "Relief doesn't come close to how I feel.
"It's the biggest weight off of my shoulders – as a parent all you want is for your child to be healthy and happy.
"The worst part was seeing her being put under and having to wait while she was in surgery.
"That was the longest, most stressful wait of my life."
Lynette,who has two other daughters, Shakira, 15, and Payton, 9, and two sons Nathan, 17, and Carson, who is one month old, said there has been a huge change in Layla's energy levels since she had the surgery.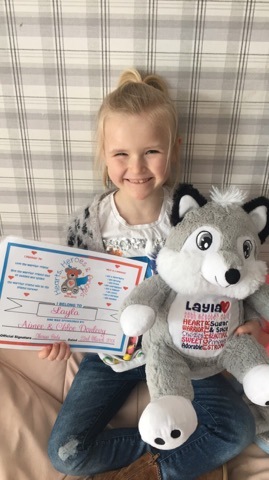 She said: "Layla has more energy than ever now.
"It's amazing to see her running around and seeing her with all the energy that she always should have had.
"Layla used to not have quite as much energy as her siblings, but the change to now is incredible – she just doesn't ever seem to stop."
Lynette has also praised the doctors at the hospital who performed the surgery.
She said: "The doctors were absolutely phenomenal.
"They've done more than give her her life back – they've given her her childhood back.
"I don't have the words to say how grateful I am – they were absolutely fantastic.
"They did a brilliant job and kept Layla calm while keeping me calm as well.
"Layla hasn't stopped smiling since she got back home.
"What they've done for her is incredible."
Following the surgery, Lynette and her partner Sammy, who live in Kemnay with their family, held a fundraiser on Saturday for the Ronald McDonald House in Glasgow, which provides free accommodation for families who have children in hospital.
The fundraiser saw £3,000 raised for the charity on the night.
Ex-Dons player Derek Soutar acted as host and MC for the fundraiser.
Lynette said: "It was a brilliant event.
"Everyone had a really good night and we raised more money than we expected.
"We're very keen to not stop fundraising now – we'll be having more events so we can raise as much as possible.
"Asda in Garthdee has donated some Easter eggs to us so we're planning on going down to the hospital in Glasgow and hand out Easter eggs to the children who Layla met on her ward.
"We'll be going to the Ronald McDonald House and Aberdeen hospital as well – we owe them a lot as well since they were the ones that picked up Layla's heart murmur in the first place."
North-east girl Layla, 7, went to A&E with a rash…. but doctors found a hole in her heart
The fundraiser included a raffle and auction which saw several football prizes up for grabs, including two tickets to any Aberdeen Football Club away game and tours of some of the UK's most famous stadiums, including Manchester United's Old Trafford.
Sammy said: "The night was just unbelievable.
"Derek was fantastic on the night and really brought everything together.
"The whole night was quite surreal, really. To have raised £3,000 is better than we could have hoped.
"I'm delighted we were able to do this for Layla."
Lynette added: "Our community has been brilliant and really helped the event such a success.
"People have been so generous and we're so grateful."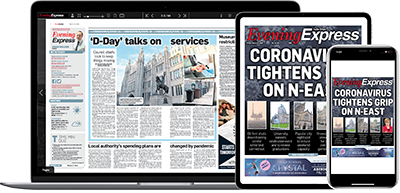 Help support quality local journalism … become a digital subscriber to the Evening Express
For as little as £5.99 a month you can access all of our content, including Premium articles.
Subscribe