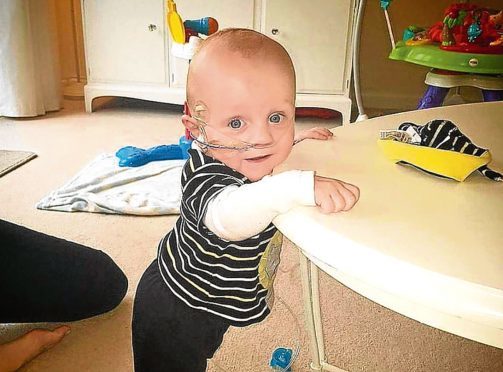 A North-east family has just one wish for the festive season – that their ill little boy can have his Christmas dinner with them.
Grant Dryburgh and Lauren Knight's 16-month-old son Henry can only be fed by tube and vomits uncontrollably at even the smell of food or the sight of a spoon.
But help could be at hand, and the family has launched a fundraising campaign that could change his life.
Ever since he was diagnosed with in-utero growth restriction and was born by caesarean section at 29 weeks, little Henry has faced serious health challenges.
Weighing just 1lb 9oz and unable to breathe on his own, he spent his first five months in the neonatal unit at Aberdeen Maternity Hospital.
Henry was ventilated from birth and struggled through several infections, brain bleeds, high blood pressure and chronic lung disease. But eventually the little fighter was weaned off the life support machine and went home with parents Lauren, 22, and Grant, 23, who live in Alford.
Sadly, after just seven weeks, Henry caught Respiratory Syncytial Virus (RSV) – an infection of the lungs and breathing passages – and he was readmitted to hospital so doctors could tend to his dehydration and increasing oxygen requirements.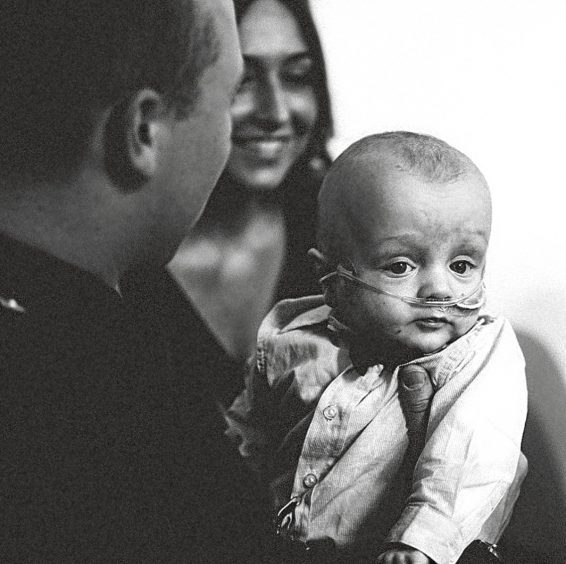 Henry was fitted with a nasal gastric (NG) tube to keep him hydrated until he had recovered from his bout of RSV – however, 10 months on Henry will no longer feed orally and is completely tube dependent.
Lauren said: "It's a lot of hard work, Grant and I both had training courses to put the NG tube in and he used to pull it out daily, so I had to wrap him in towels and hold him down while I put it back in.
"He projectile vomits and it's very upsetting, it's really terrible.
"It's got to the point now where even smelling food, or seeing a spoon, will cause him to vomit everywhere."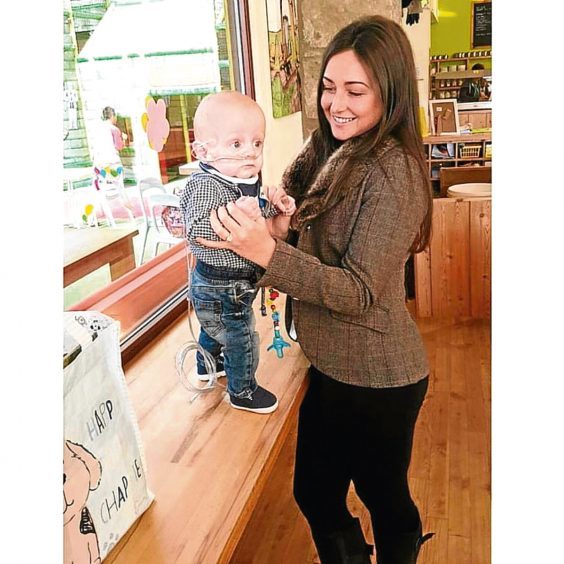 The family are now hoping that an online coaching course, Notube Netcoaching, could be the answer.
The £4,000 programme is specifically tailored to each child's condition, background and needs and has a 90.5% success rate of weaning children off NG tubes and on to food.
The course works to reduce mouth aversion and eliminate anxiety around food to make eating an enjoyable experience.
Lauren said: "We have had our consultation and Henry is an ideal candidate for this programme and they feel with the right intensive intervention that he can be eating enough orally to have his NG tube removed.
"I have spoken to other parents who have gone through the programme and there are so many success stories.
"It's so popular that in countries like Austria, the programme is available in their health service so all children with this problem go through it."
The family hope Henry will achieve success with the course and will be able to join in with Christmas dinner.
Lauren said: "It will be a dream come true, it'll get his weight up and oxygen up, he could live a normal life, we could go to mum and baby groups, go swimming and he can meet Santa.
"My dream would be that Henry could have his Christmas dinner with us at the table. He is genuinely such a happy and smiley baby, he deserves it all."
The Gofundme campaign has so far raised more than £3,850 of the £4,000 goal.
To donate visit http://bit.ly/2xQSQDe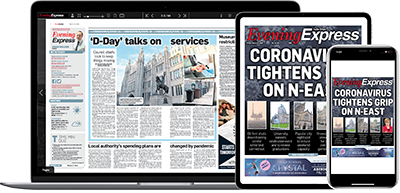 Help support quality local journalism … become a digital subscriber to the Evening Express
For as little as £5.99 a month you can access all of our content, including Premium articles.
Subscribe