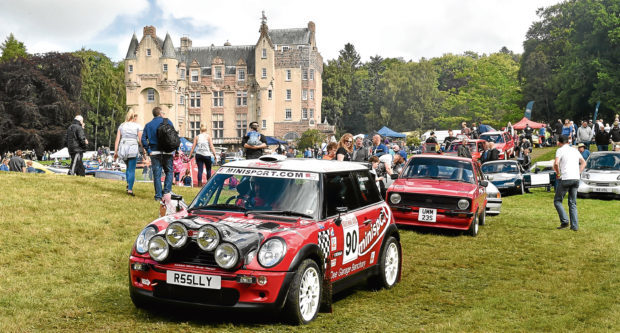 A popular motoring festival has cancelled this year's event after festival bosses announced they cannot afford to buy hay bales.
The straw is used in the annual Hill Climb race at the Royal Deeside Speed Festival at Kincardine Castle to protect drivers if they come off the track.
Festival organisers are unable to pay for the bales following the implementation of a buy back scheme by the Scottish Government that turns the material into biofuel.
Tony Yule, one of the event's organisers, said: "Safety critical items, such as the bales, are really hard to get a hold of this year.
"They're in really short supply and the costs to get a hold of them are prohibitively high.There's a lot of incentive from the Government to sell them on to make into biofuel.
"We can't compete with the costs involved with that.
"We're swimming against the tides of increasing costs here."
According to Mr Yule, if there are no bales to secure the safety of drivers, then they cannot run the hill climb, and therefore wouldn't want to run the Kincardine O'Neil event.
Failure to secure the bales also means that the event would not be able to gain the proper permits.
"We could run a smaller event, but it wouldn't have the same wow factor," he added.
"We'd rather stop something when it was good than run it when it was a shadow of its former self."
Councillor Geva Blackett said: "I think it's really sad. It was a great event, but I hope that because they've had to cancel this year, won't mean that they can't work towards doing it again next year.
"I understand that their Coffee, Cake and Cars events will still be going on. It was a great event and it brought lots and lots of people into the area and I just hope that they continue for next year."
Mr Yule said it was a "very expensive event to run" and that the festival had to rent the grounds to be able to hold the event.
Organisers say that they remain hopeful of being able to come back next year.