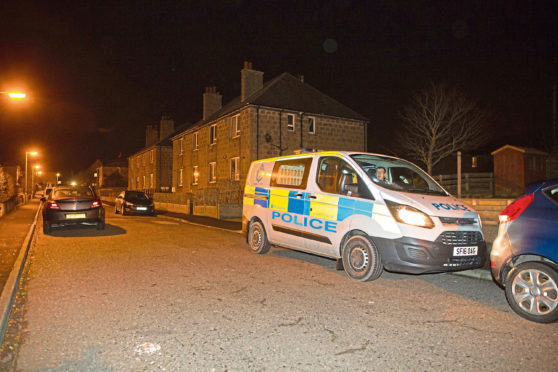 A man accused of carrying out an armed robbery at a property in Fraserburgh has denied any involvement – claiming he was buying drugs at the time.
Slessor Buchan and Scott Fowler are on trial at the High Court in Aberdeen.
The duo are accused of demanding drugs and money, pointing a gun into Colin Verral's face, shooting it into the ceiling, kneeing him and taking money and an iPhone, while acting with others.
The incident is alleged to have taken place at Mr Verral's home in Gray Street, Fraserburgh, earlier this year.
LeeAnn Shaw, who is serving a jail sentence for being involved in the robbery, previously told the court she was dropped off at the property in a car with Buchan and Fowler.
She said that after she left them and knocked on the door, three people she could not identify charged in behind her.
Yesterday, Buchan took to the stand and denied being involved, saying he had driven with Fowler before going to a nearby address to buy heroin.
He said Shaw had been picked up in the car later in the night.
But depute advocate Keith O'Mahony refused to accept his version of events.
He pointed to the fact that Mr Verral had said someone matching the build of he and Fowler carried out the robbery, and asked what he made of that.
Buchan replied: "I would say there are 10,000 people in Fraserburgh who match it."
Mr O'Mahony then said: "I am going to suggest that the evidence you have given today is nothing but lies."
He replied: "I totally disagree."
Buchan, 39, and Fowler, 37, deny the charges against them.
The trial, before Lord Uist, continues.