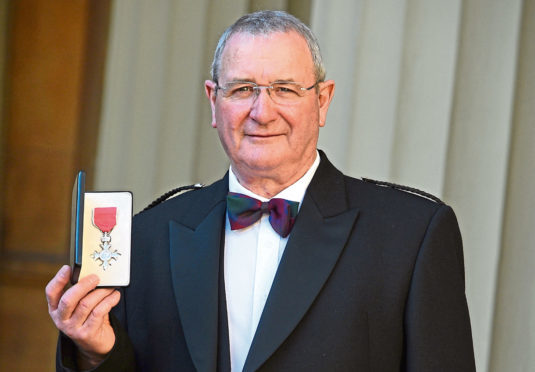 A north-east lifeboatman has been honoured by the Queen in a ceremony at Buckingham Palace.
Bill Deans was invited to the royal residence, along with his wife, daughter and granddaughter, to receive his MBE in recognition of 42 years' service with the Royal National Lifeboat Institution (RNLI).
The father-of-two, who lives in Belhelvie, has dedicated years of his life to saving lives at sea.
He said: "I was among 50 people receiving their titles at Buckingham Palace, including police officers who had attended a terrorist attack – so I was in good company.
"The Queen was very nice and I was told she would be chatty. We spoke for a minute or so and she asked questions about how long I'd been involved and how many call-outs Aberdeen station got each year."
---
---
Bill was a police constable when he first volunteered to train as an inshore lifeboat crew member in 1976.
He soon moved up the ranks and by 1985, Bill had joined the crew of the city's all-weather lifeboat, training as a first aider, mechanic and second coxswain. After completing his police service in 2002, Bill took up an RNLI staff appointment as divisional trainer/assessor, supporting lifeboat stations and crews throughout Scotland for 15 years.
Bill retired from his active crew service in 2010, having taken part in more than 634 rescues, but then in 2015 he was invited to take up his present role as lifeboat operations manager at Aberdeen Lifeboat Station.
Bill said: "It's an extraordinary privilege for me, but it is also recognition of the work done by everyone around me at Aberdeen Lifeboat Station – the crews through those 42 years, the support team and fundraisers, and of course my family, who have supported me throughout."
Dr Margaret Farquhar CBE, chairwoman of the Aberdeen branch of the RNLI and former Lord Provost of Aberdeen, said: "Bill Deans has led, trained and inspired generations of lifeboat crews. His many friends in the RNLI are delighted to see his 42 years' service recognised through his appointment as MBE."