A North-east land train is going full steam ahead for another season.
The Stoney Express, which serves tourists and the people of Stonehaven, has taken to the roads once more.
The train shuttles passengers around the sights of the town, the Market Square, the harbour and Dunnottar Castle.
Operated by the Stonehaven Town Partnership (STP), the attraction had taken a break over the winter. Now it has returned to service and will operate daily from Market Square over the Easter holidays, with journeys running every weekend until the summer holidays.
Braving the wind and the cold on Saturday, passengers flocked to take a ride on the Stoney Express – with both of the day's trips packed. Jim Stephen, chairman of STP, said of Saturday's journeys: "There were two runs, and the kids came even though it was cold and windy. It was really nice that people came."
According to Jim, yesterday was also a successful day – and had much better weather.
He said: "The first three runs were full, so we can't complain at that."
Jim added: "It's great for the local businesses as well.
"Some of the locals will invite friends down to visit and then they come to the land train.
"Hopefully the knock-on effect is that the local pubs and restaurants will see a bump in business."
Project co-ordinator for STP Julie Lindeman said: "It's good for the local kids to do during the school holidays, it's great for the tourists who come in on the actual train, and it's just another attraction into the town."
STP is still looking for a part-time driver to ease the pressure on their existing two members of staff.
The paid position requires applicants to be fully-licenced bus drivers.
Julie said: "It would be perfect for someone that was retired or semi retired, or someone who just wants a part-time role. It's very flexible, we're looking for someone to slot in with the other two drivers and pick up the extra hours."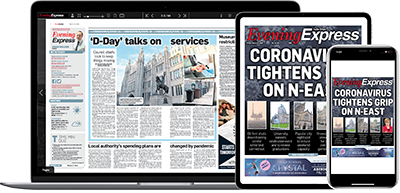 Help support quality local journalism … become a digital subscriber to the Evening Express
For as little as £5.99 a month you can access all of our content, including Premium articles.
Subscribe