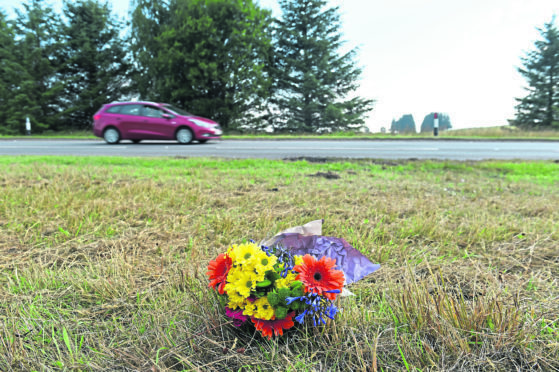 The north-east was in mourning today after a four-year-old boy and four others died in a late-night horror crash.
Police said the boy, who was on holiday in Scotland with his family from Italy, died when the minibus he was in collided with a Nissan X-Trail 4×4 on the A96 between Keith and Huntly at 11.50pm on Thursday.
A woman in the minibus also died, along with two women, aged 69 and 70, and a 63-year-old man who were in the 4×4.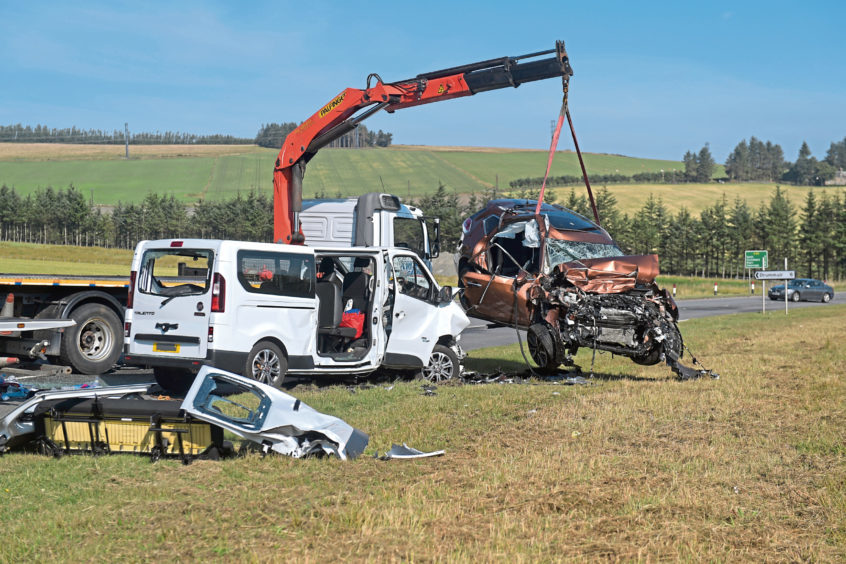 The 39-year-old woman driving the 4×4 suffered serious injuries and is being treated at Dr Gray's Hospital in Elgin.
The man driving the minibus, along with a male passenger, a female passenger and a three-year-old boy were taken to hospital with a variety of injuries.
Police said the female minibus passenger was in a critical condition and was being treated at Aberdeen Royal Infirmary. The boy suffered minor injuries.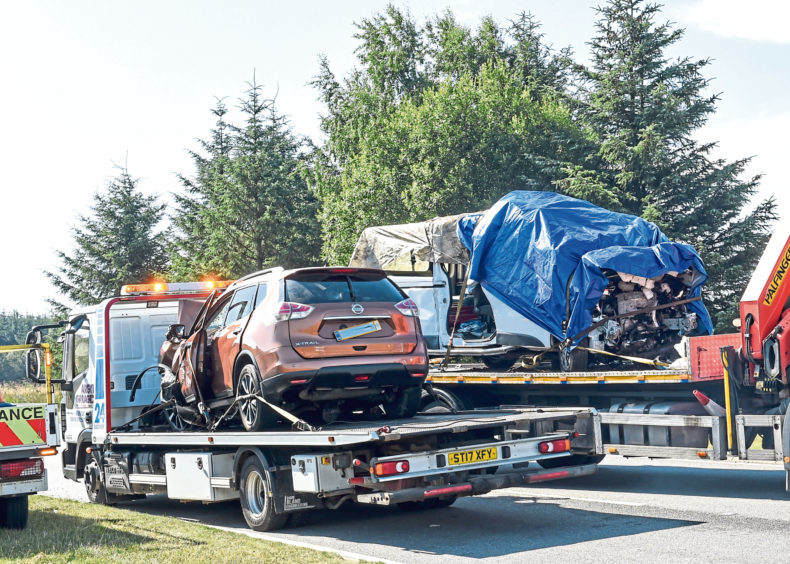 All those in the minibus were Italian tourists and all those in the 4×4 were local, police said.
Roads Policing Superintendent Louise Blakelock spoke at a press conference at Inverurie Police Office yesterday and said driving conditions at the time of the collision were "standard".
The road remained closed for 12 hours while emergency services worked at the scene to investigate the crash and recover the vehicles.
Supt Blakelock spoke of the "dreadful" scene emergency service workers faced when they arrived to help and described it as "both distressing and extremely challenging".
She added: "I would like to take this opportunity to thank all those who made valiant attempts to save the casualties' lives – their efforts cannot be underestimated.
"I would also like to thank members of the public who came upon this terrible incident, who phoned the emergency services and provided first aid and comfort.
"An investigation is ongoing into the exact circumstances. I would, however, ask anyone who was in the area on Thursday night and saw either vehicle involved in the lead-up to this incident to please contact the police on 101.
"Likewise, if you have dashcam footage that may assist please get in touch with us."
Police have not yet released the names of those who died and they are working with Italian consular officials.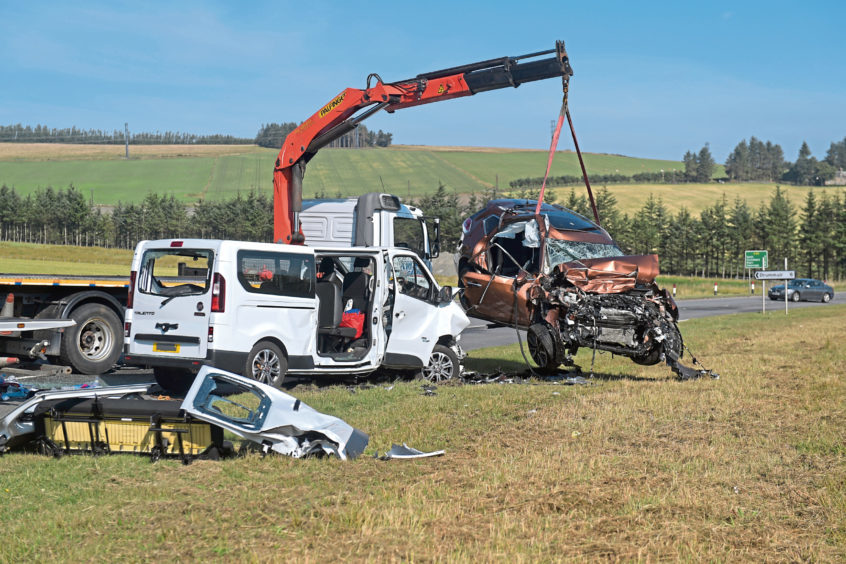 A spokesman for the Italian Embassy in the UK said: "The Italian Consulate General in Edinburgh is working very closely with local authorities to assess the causes of the A96 accident and is providing all possible assistance to the Italian nationals involved in the car crash."
A message was put on social media yesterday afternoon appealing for NHS Grampian workers able to speak Italian to contact a nurse working at Dr Gray's Hospital in Elgin.
Several hours later, NHS Grampian thanked those who offered help and said they were no longer seeking assistance.
Councillors spoke of their shock at the devastating crash and said they hoped the police probe could prevent future crashes on the road.
Huntly, Strathbogie and Howe of Alford councillor Gwyneth Petrie said: "We woke up yesterday to the news of this horrific crash, with the full tragedy only becoming more clear as further details emerged.
"My thoughts are very much with all those involved, and their families and friends, and I hope that those in hospital recover quickly.
"I would also like to extend my thoughts and utmost gratitude to the members of the emergency services who attended what will have been a very traumatic incident and did their very best to save everyone involved."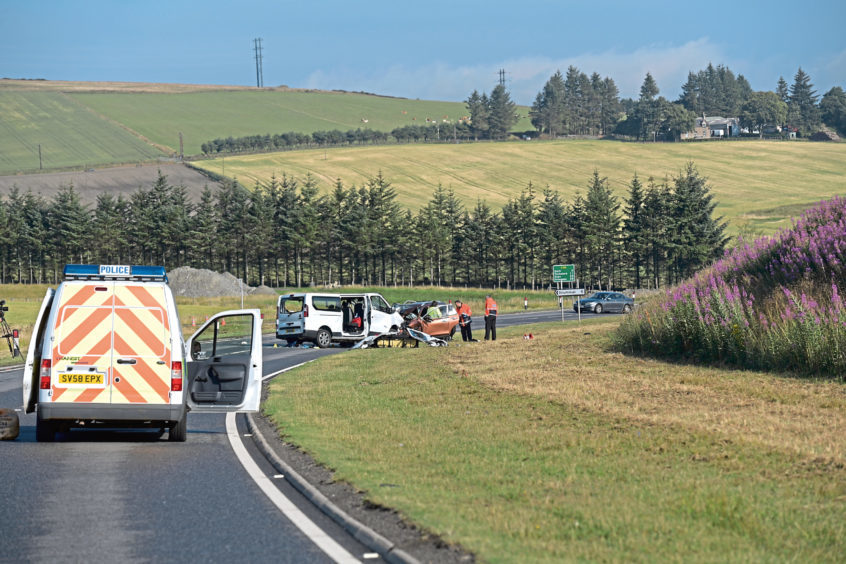 Keith and Cullen councillor Theresa Coull added: "My sympathies go to all the families concerned in this horrific accident.
"I would also like to express my appreciation to all the emergency services."
Turriff and District councillor Anne Stirling said: "It is such a shock for everyone. I want to praise the emergency services for their work. The police investigation could possibly recommend changes that could prevent such a tragedy happening again.
"It is hard to know how something like this will be impacting the loved ones of those who died or were injured and I can only express my condolences to those who have lost loved ones."
And Moray MP Douglas Ross added: "This horrific accident will cause great concern to the local community and a number of families have had their lives destroyed.
"I am sure that police will be doing everything possible to find out what happened and to find out how this tragedy occurred.
"While our thoughts have to be with those who have lost their lives, it is important to acknowledge the work of the emergency service workers who worked both at the scene and at hospitals. We must give credit to them."