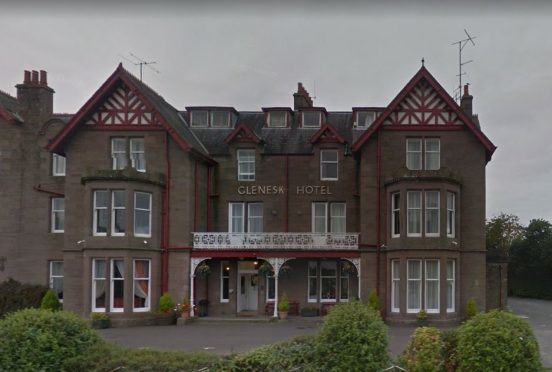 A North-east hotel has 1,031 good reasons to toast its success after finding its way into the Guinness Book of World Records as a dram lover's dream destination.
The Glenesk Hotel just inside the famous stone arch of the village of Edzell has captured the crown of having the greatest number of different varieties of whiskies for sale behind the counter of its magnificent bar, with something for every taste — and pocket — in the spectacular collection.
And the world-beating figure is just part of an array which, boosted by owner Dylan Wren's own personal stock of rarities, tops 2,500 bottles.
The whiskies include malts from every working distillery in Scotland and many hard-to-find bottlings, including the bar's most expensive 25-year-old Lagavulin with a not-to-be-sniffed at price tag of £248 a dram.
Mr Wren bought the hotel some five years ago and his collection of a couple of hundred whiskies spiralled.
Hotel operations manager Samuel Allen said: "When he moved in he wanted to install the whisky bar, mostly as an attraction for our own guests but also as a way of showing how hugely important whisky is for the country.
"A hotel really should be part of the community and we just wanted to scream and shout about whisky, so the world record happened a bit by accident."
The grandly-named Millionaire's Casino in Ayrshire was the previous holder of the title for having the most commercially available whiskies on offer, and by the time the Glenesk began to think about going for the record the hotel realised it was well past the benchmark of around 800.
"We have just had the world record confirmed in the last few days so we are really pleased," added Mr Allen.
"It's a passion for Dylan, but is also very important to everyone here at the hotel.
"The record is specific to the ones on sale in the bar, but with the display collection we have around 2,500 bottles."
Connoisseurs and casual drinkers alike can browse the bar's two huge whisky bibles in which every bottle is logged, along with the tasting notes to enjoy the dram in their hand to the full.