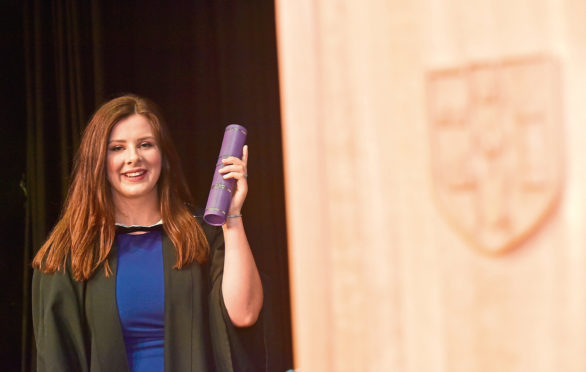 A new north-east mum is celebrating the success of her new degree.
Danielle Robertson, 22, graduated with a Bachelor of Nursing from Robert Gordon University (RGU) at a ceremony at Aberdeen's Beach Ballroom.
The Peterhead woman said: "Nursing is such an attractive course and career, but it will arguably test the will of even the strongest people.
"You have to motivate yourself to get up at the crack of dawn so you can catch the first bus and head in for a 12-hour shift, sometimes three days in a row, making you feel like the walking dead.
"But it's worth it when you see the effect you're having on each of your patients.
"If it wasn't challenging enough, however, I gave birth to my daughter at the end of stage two, and had to take her with me to a placement about 70 miles away from home.
"It was a difficult time, but definitely rewarding.
"I know that when she's older, she'll be able to smile with pride and say 'My mum is a nurse'."
---
---
Now she has graduated from RGU, Danielle has taken up a nursing post in a rehabilitation ward based in Peterhead.
She added: "Looking back, I think my biggest achievement at university is being able to say I came out the other end generally unscathed.
"I was doubtful I'd get in originally, as none of my family had ever been to university, but I am genuinely proud to say that I have changed that."