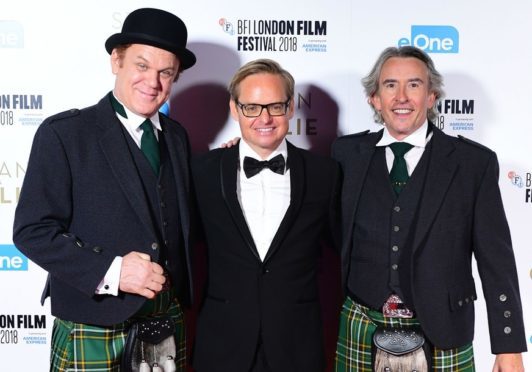 The star-studded world premiere of a north-east director's new movie has taken place at the London Film Festival.
Directed by Peterhead's Jon S Baird, Stan & Ollie follows the world's most famous comedy duo as they embark on what was to become their swan song.
And the movie's stars Steve Coogan and John C Reilly both wore kilts on the red carpet to commemorate their roles.
The event, held in Leicester Square, saw members of the cast take to the red carpet alongside the film's director.
Asked about Coogan and Reilly's choice to wear kilts on the red carpet, the director, laughed and said it was "all about him".
He said: "They're wearing them because they wear them in the film.
"There's a scene where they go to Scotland and wear these oversized kilts but they thought it would be a nice little touch as well and, as you can see, a good photo opportunity.
"They've not been shy about it, let's just say!"
Coogan and Reilly, who play Laurel and Hardy respectively, also donned matching bowling hats in the style of the double act.
---
---
Mr Baird said he didn't want the film to be a "normal sort of biopic".
The 45-year-old said: "I wanted to choose a little bit of their lives and concentrate on a little bit of their life.
"The most interesting part was when they had felt as if they were coming towards the end of their stardom, when they were struggling, and what they were actually like off-screen.
"Everybody knew what Laurel and Hardy were like on-screen and what their personas were like.
"They're very different off-screen so I just thought it was a lot more interesting to look at their sort of alter egos or the real people."
And star Coogan has said he was drawn to the production because it would not be a "conventional biopic".
Arriving on the red carpet, Coogan said: "We cover a little bit of their heyday, but really it's about them 20 years after they were famous and it's about someone's relationship when the lights are off and the adulation has died away in some ways.
"They came back together to do this live tour of Britain so we see them in the autumn of their lives and that is what makes it interesting and not just a conventional biopic."
Coogan added it was "scary and exciting" to take on such a famous figure, but said he did feel an affinity with Laurel.
He said: "His career was in comedy, mine is, he's from the north, I am, and I didn't feel like I was playing a martian. It didn't seem like a huge stretch.
"He's an icon so it wasn't like I was super comfortable with it, but I felt like I had the best shot at getting it right out of anyone."
He added: "We spent a few weeks rehearsing before the camera rolled to get the physical side of it right, the dancing, a lot of the physical comedy requires a lot of work.
"It was hard work but enjoyable."
Reilly said the dance routines made the film "a lot more aerobic" than he was expecting.
He added: "Laurel and Hardy made it look so nonchalant, but actually they rehearsed a lot to get it the way it is."
Stan & Ollie is released in UK cinemas on January 11.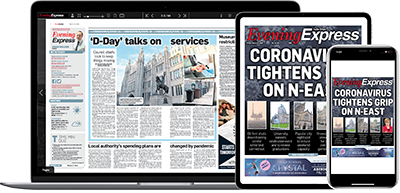 Help support quality local journalism … become a digital subscriber to the Evening Express
For as little as £5.99 a month you can access all of our content, including Premium articles.
Subscribe