The farmer at the centre of the BSE alert in the north-east today said the situation has been "personally devastating".
Scotland's chief veterinary officer has insisted there is "no need to panic" after the outbreak was confirmed at a farm in Aberdeenshire yesterday.
The case of so-called mad cow disease, known in full as Bovine Spongiform Encephalopathy, was identified at the unnamed farm as part of the routine testing of all fallen stock over four years of age.
Today it was revealed more animals will be destroyed and a movement ban has been put in place as authorities work to trace the source of the outbreak.
In a statement released through the NFU, farmer Thomas Jackson described the moment he found out one of his animals had been found to have BSE as "heartbreaking".
He said: "This has been a very difficult time for myself and my wife and we have found the situation personally devastating.
"We have built up our closed herd over many years and have always taken great pride in doing all the correct things.
"To find through the surveillance system in place that one of our cows has BSE has been heartbreaking.
"Since this has happened we have been fully cooperating with all the parties involved and will continue to do so as we like everyone want to move forward and clear up this matter.
"The cohorts and offspring of the cow have now been identified and as a purely precautionary measure they will be slaughtered and tested in due course; again we are fully co-operating with all the parties with regards to this."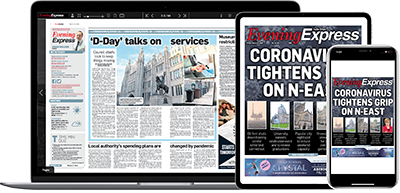 Help support quality local journalism … become a digital subscriber to the Evening Express
For as little as £5.99 a month you can access all of our content, including Premium articles.
Subscribe