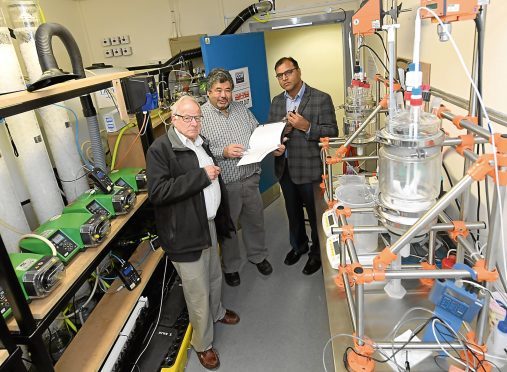 A CLEVER device that converts pollution into a valuable material has been developed in Aberdeen – and could be a money spinner.
Engineering experts at the University of Aberdeen have come up with a carbon capture device, which fits on the flues of industrial buildings to stop harmful gas escaping into the air.
The carbon then mixes with other chemicals to produce a substance used to produce common household goods such as writing paper and food packaging.
That substance is typically sold at £400 per tonne and the team hope they can sell their devices across the world to help the environment.
The academics are so confident their device will generate a profit, they have formed their own company, CCM (UK) Ltd, and are now looking for £5 million in investment to get their idea to the next stage.
Leading the project is the company's chief executive officer, Dr Mohammed Imbabi, who teaches civil engineering at the university.
He said: "We have tested the machine and we know it works. The next step is to scale it up, by testing it at higher capacity.
"We are hopeful of getting the investment we need and the hope is that it can either be sold individually to companies or produced by another company to sell around the world."
Dr Imbabi said cement factories produce the highest levels of carbon than any other industry.
He added: "You could attach one of our modular devices to a cement plant and it would produce a material that can be sold at a profit. It works as a business idea and is kind to the environment."
The idea has captured the imagination of innovation enthusiasts across the world and has been shortlisted for the Carbon XPrize – a contest whereby judges pick an innovation that can change the world.
The winning entry receives $20 million (£15.3m) prize money and judges are set to visit the university in January.
The CCM (UK) Ltd team, which also includes Dr Zoe Morrison, research student Wanawan Pragot, chemical engineer Dr Waheed Afzal and Professor Fred Glasser, were praised at the UK Parliament by Aberdeen South MP Ross Thomson in Westminster. Mr Thomson told his fellow MPs the university "has world-leading experts at the forefront of research."