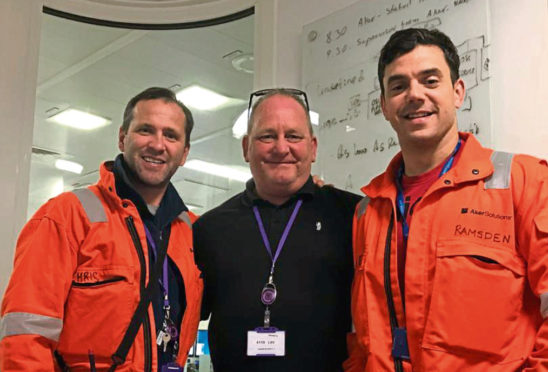 An offshore worker has thanked the people who helped save his life after he had a heart attack on board a North Sea oil platform.
Graeme Law, 55, had to be resuscitated twice after suffering a heart attack, before going into cardiac arrest on the Mariner platform 95 miles east of Shetland.
The Ellon dad, who is a health and safety adviser on the platform, was airlifted by coastguards to Gilbert Bain Hospital in Lerwick where efforts to save his life continued before he was stabilised enough to be transferred to Aberdeen Royal Infirmary.
Graeme, who was conscious for almost all of his ordeal, admitted he may not have survived without the quick intervention of his colleagues and medical staff.
He said: "It was very scary at the time. I remember it all apart from a couple of minutes when I was getting CPR.
"I came round while a guy called Euan Wallace was giving me CPR.
"I felt a little bit of pain the night before but I thought I'd just hurt a muscle. I did my night shift and went to bed at 7am.
"I woke up at 10 and at that point I knew something wasn't right. That's when I called the medics.
"I was treated on the platform for a number of hours until I was airlifted to Lerwick."
Graeme spoke of his gratitude to Euan, as well as Peter Barrett, Michael Brankin, Aimee Sutherland and Mike Fegan, who all helped save his life.
After being transferred from Shetland to Aberdeen Royal Infirmary, Graeme was finally reunited with his family – wife Audra, 52, son Greg, 26, and 22-year-old daughter Natasha – almost 12 hours after his treatment began.
He said: "It was such a relief to see them when we got to the hospital.
"It was a massive help at such a difficult time."
---
---
It is not yet known how long Graeme will be in hospital, but he believes the treatment he has received so far has worked.
He said: "Everything they have done so far seems to have really helped.
"I'm due to have an angiogram and I think I'll be here for the rest of the week at least.
"But the medical teams on the platform, in Lerwick and at ARI have been fantastic. I'm so thankful."
Natasha said her dad was remaining positive despite his ordeal.
She added: "He has been sitting up chatting to us and making a joke or two. He's been in good spirits even though is still aching a bit from the CPR.
"We're not sure how long he will be in hospital for but he is being kept under close monitoring at the moment.
"I don't think there are any words that would come close to showing how grateful we are."