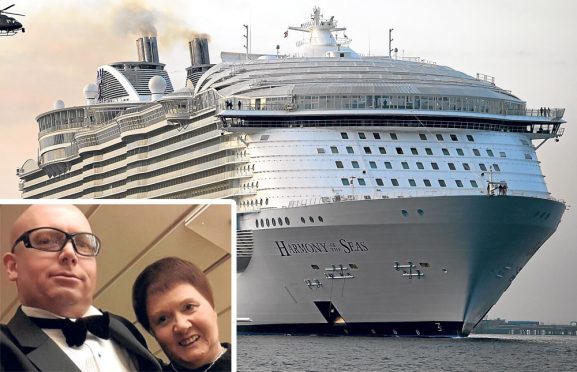 A North-east couple are stranded in Florida and facing massive medical bills after their once-in-a-lifetime Caribbean cruise turned into a "disaster".
Derek and Linda Mutch, from Peterhead, are currently in a Fort Lauderdale hospital after serious illness struck during their luxury holiday.
Linda, 68, was diagnosed with a heart murmur and two strains of flu and has been told by medics she may not be able to fly home to the UK without a nurse.
Their insurance company has refused to pay the hospital bills after the couple failed to declare a medical condition on their forms.
However, hope may be at hand after a work colleague of Derek's launched a crowdfunding campaign to fly them home.
Before leaving for holiday, Linda, who suffers from spinal stenosis and was paralysed in a wheelchair, underwent as operation and regained some of her mobility.
To celebrate, Derek booked the Caribbean cruise onboard the Harmony of the Seas.
After cruising around the Caribbean over Christmas and New Year they were due to fly home on January 10.
Derek, 49, said: "Towards the end she started to get a bit tired, but I just put it down to the fact we were exploring the ship and doing things.
"It's been a disaster ever since. My wife took ill, and she said to call 911 because of her health problems.
"They arrived in about five minutes and took her to A&E.
"They told her she had heart murmurs and two strains of the flu, and I ended up collapsing from the shock, so I was also taken in to A&E. They charged me $600."
Derek added: "The next day, the hospital came to me and said we need a £10,500 deposit, and as you can imagine, I didn't have that.
"The insurance company said they would no longer be financing it. They said she hadn't declared a medical condition.
"We're waiting until Monday to see if she's well enough to fly home, but we might need nurse assistance."
Derek is currently staying with his wife in a spare bed at the hospital.
He said: "I left my hotel, because I couldn't afford to keep staying there."
So far Derek thinks he's spent around £8,000 on his wife's care.
Daniel Strachan, an electrical compliance manager for FES, heard about his friend's plight and started an online fundraising campaign.
He said: "I just want to help as much as possible, even if it's just enough to get them a flight home from London to Aberdeen, or get them a hotel.
"I sent him the link on Facebook, and I don't think he believed me."
Derek added: "I thought Daniel was winding me up, I didn't realise at first that he was serious."
The fundraising page can be found at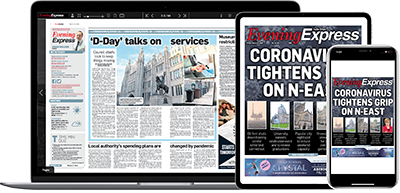 Help support quality local journalism … become a digital subscriber to the Evening Express
For as little as £5.99 a month you can access all of our content, including Premium articles.
Subscribe