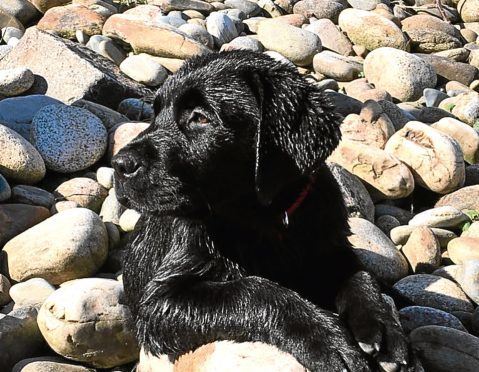 A North-east couple vowed they will cancel their wedding next year if that is what it takes to care for their puppy who was injured in a hit-and-run.
April Neish and her fiance Paul Montgomery's seven-month-old black Labrador Baxter suffered three broken legs on Friday and is now being sent to Dundee for specialist surgery.
The couple initially feared the young dog would have to be put down after the incident in Strachan.
Miss Neish said: "We agreed we would postpone our wedding if we need to pay thousands for the vet's bills.
"But we are so pleased that they can try to fix him, we don't care what it costs."
Baxter has been at Woodside Veterinary practice in Torphins since the accident.
Miss Neish commented on the "amazing" care he had received there and said: "The X-rays were sent to a referral clinic in Dundee, which is the nearest place for us. They have given the go-ahead for surgery. They have quoted us a figure that isn't as much as we had thought, at between £5,000 and £10,000 – if it goes any higher we will have to cancel the wedding.
"But we are so pleased that they can try and fix him, we don't care what it costs."
A police spokeswoman said: "No one has yet come forward but we would urge anyone with information to phone us on 101."