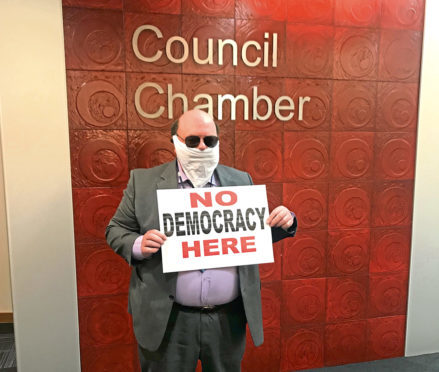 A north-east councillor was thrown out of the council chamber after a protest which saw him brandish a sign and cover his face with a handkerchief.
Peterhead member Alan Buchan donned the unusual disguise during a meeting of Aberdeenshire Council at Woodhill House yesterday, claiming questions he has over the timescale for a new academy are being ignored.
The stunt, which was described as "quite theatrical" by one elected member, led to Provost Bill Howatson choosing to suspend him from the remainder of the meeting.
Plans are in place to deliver a new £71 million Peterhead Community Campus, which is expected to be completed between 2023 and 2028.
But the independent councillor said the town was initially due to get a new school between 2017 and 2022, but that this had been "pushed into 2023/28".
Mr Buchan added: "There's nothing in the standing orders which says that I cannot sit in the chamber with a handkerchief over my mouth, holding a piece of paper.
"He (the Provost) broke the rules again, but I'm not breaking the rules so I've just left the meeting.
"This is the third meeting he's blocked my issues.
"The February meeting he prevented a properly proposed and seconded motion being put forward for Peterhead Academy which would have brought the academy forward by five years.
"It was brought up again at the next meeting, he stopped me bringing it up again and this is the type of non-violent passive protest that I'm reduced to.
"I don't like doing this but I see no other way of trying to get my message across because it's so important to my constituents."
Chairwoman of the council's education committee, Gillian Owen branded the stunt "quite theatrical".
She added: "I think it's kind of sad that someone would do a stunt like that.
"Making a stand like that on one particular issue when you have a full council meeting which had some quite tough things on the agenda."
Mr Howatson, who chaired the meeting, said he had never had to use such a sanction before.
He added: "I am very disappointed at the actions of Councillor Buchan.
"I have never had to use such a sanction before, which shows the gravity of the situation.
"All councillors at the meeting agreed with the suspension from the meeting.
"There is an expectation that councillors act in a professional manner at all times."
The council's standing orders allow the council to agree to suspend any member from a meeting if they "persistently misbehave" by dis-regarding rulings of the chair".
The Provost added: "Councillor Buchan has put forward questions to the last few council meetings, all of which have been deemed inadmissible or not competent – and he has received detailed explanations for why this is the case.
"Yet he continues to submit questions which are not competent, and on occasion, defamatory."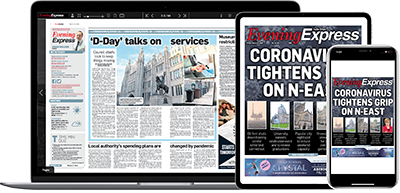 Help support quality local journalism … become a digital subscriber to the Evening Express
For as little as £5.99 a month you can access all of our content, including Premium articles.
Subscribe