A woman has thanked a local business for stepping in to replace a projector stolen from her popular Christmas display.
The Kirktown Garden Centre came to the rescue of Debra Henry, who decorates her garden in the Brickfield area of Stonehaven every Christmas and puts out a charity box.
As part of this year's spectacle, she added laser equipment.
She was furious when a thief made off with the projector and she posted an angry message on social media.
It was noticed by Yvonne Davidson, who works at the town's Kirktown Garden Centre and told her boss, Jim Gammie.
He decided to donate a snowflake projector to Debra in a gesture of goodwill.
Yvonne said: "I know how much work Debra puts into her charity display each year and it was such a shame for something like this happen.
"It was so nice of my boss to do this."
Debra said she was delighted to receive the new projector.
She added that the gesture was unexpected but "such a kind thing for him to do".
She chooses a local charity or organisation to benefit from the contributions each year. This year's money will go to the local Sea Cadets.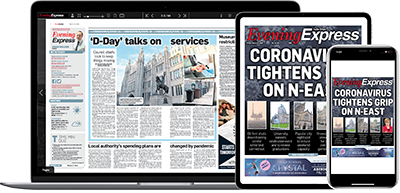 Help support quality local journalism … become a digital subscriber to the Evening Express
For as little as £5.99 a month you can access all of our content, including Premium articles.
Subscribe