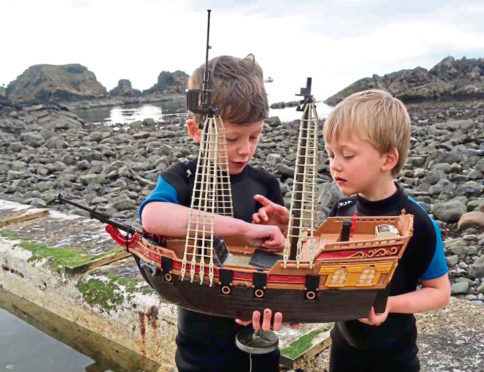 Two boys are to launch a treasure hunt for children to enjoy across the north-east as part of a challenge to have 500 adventures in a year.
Brothers Ollie, eight, and Harry, six– accompanied by their parents MacNeill and Vicki Ferguson – announced that they will hold a treasure hunt for several Playmobil sets all across Aberdeenshire beginning on Friday.
It is the second time the family has held a treasure hunt for the toys, with the last one taking place in December last year.
The boys, who come from Turriff, received the sets from the Germany company after they launched a Playmobil pirate ship, named Adventure, into the sea from Peterhead in May.
Since then, the ship has made its way around Europe and has now been tracked in the Caribbean Sea.
This time around, the youngsters will be announcing the location of their treasure on BBC Scotland on Friday afternoon.
MacNeill, 44, said: "We did something like this before and it was a massive success.
"That time, we put the clues for the hunt up online.
"This time, we will be going on the radio where we will be announcing the general location of the sets.
"Playmobil have been so generous to us and we feel that since we've been given so many sets, we could give them away so other families can enjoy them. We took some of the sets to the Royal Aberdeen Children's Hospital as well."
SOS to help get Playmobil ship back to the north-east after it sails 3,703 miles to the Caribbean
Ollie and Harry are currently embarking on a challenge to have 500 separate adventures in a year and are very close to reaching the halfway mark.
MacNeill said: "They are at number 241 and we have lots of plans for what to do with them. We would like to do something exciting for the 250th adventure to mark the halfway point.
"If anyone has any ideas, we would love for them to get in touch with us."
The clues for the youngsters' treasure hunt will be given on BBC Scotland's Out for the Weekend radio programme on Friday at 2pm.