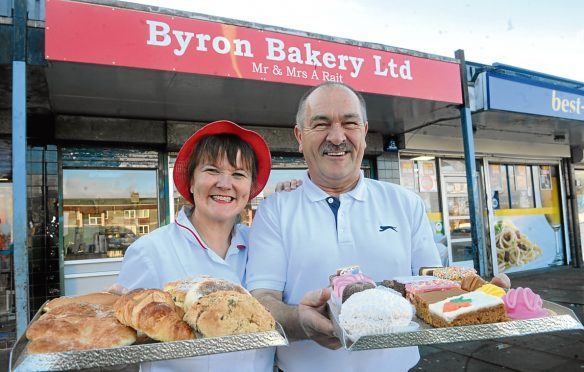 North-east bakeries are celebrating after scooping a number of top prizes at a national baking competition – including the best buttery in the country.
Businesses across Aberdeen and Shire had a busy night at the Scottish Baker of the Year awards – winning gold, silver and bronze awards for both savoury and sweet goods.
Family-run J&I Smith Bakers of Huntly struck gold with its high brown bread, taking home both regional winner and national gold awards, along with national silver for its buttery.
J&I Smith Bakers, now being run by the third generation of the Smith family, was overjoyed by its success at the awards.
Commercial manager Richard Smith said: "We were so pleased to win gold for our brown bread, we have a contract with Moray schools so we are proud of our bread. It was a surprise to win national silver for our butteries, we supply them to the North-east and even up to the Highlands."
Thain's Bakery of Aberdeen also impressed with its festive mince pies, scooping the regional silver award, and also proved simple needn't mean boring by winning regional bronze for its white bread.
Byron Bakery in Aberdeen won a special award for its rowie and can now lay claim to the title of "best buttery in Scotland". It also succeeded in the sweet stakes by taking home regional gold for its caramel cup.
Fiona Rait, who owns Byron Bakery with her husband Alistair, was delighted with her win.
She said: "It's amazing to win such a big award as a small, independent bakery, we're over the moon.
"We give all our thanks to our lovely staff and our fantastic team."
JG Ross of Inverurie won a national gold award for its mince pie, a regional bronze for its GI bread, a regional bronze for its French fancy and a national silver for its buttery.
Dianne Smith, sales and marketing manager for the company, said: "We had more than 2,000 votes in our stores alone – we're lucky to have the support from our customers.
"Though it's been difficult in Aberdeen lately, people still need to eat, though we have changed the way we do business lately, acclimatising to the fact people like their food to-go now.
"People still like things like French fancies, it's traditional and comes with a bit of nostalgia."Sinclairs of Rhynie took home a regional silver award for its date scone.
"We are extremely pleased to be recognised as one of Scotland's best bakers," said Alan Duffus of the bakery.
"We take our business very seriously and use traditional methods and craftsmen's skills to deliver quality every time. But we could not have come this far in the competition without the votes of all of our customers."
Scottish Bakers, the association that supports and promotes the interests of Scottish bakers across the country, hosted the event with ITV's Britain's Best Bakery judge Mich Turner MBE handing out the prizes.
Chief executive of Scottish Bakers Alan Clarke said: "Now in its sixth year, the competition celebrates our love of a tasty treat from our local baker and aims to crown just one hard-working bakery Scottish Baker of the Year. With thousands upon thousands of pies, scones, loaves, savoury items, morning rolls, individual cakes and biscuits sold in Scotland every day, our bakers work hard to keep us all going."
More than 11,000 customers from across Scotland voted for their favourite bakery products and, in April, more than 115 bakers produced 850 of the most popular products to be scrutinised by the panel of judges, which included artisan baker Robert Ross.
Alan added: "With products from Stranraer to Shetland, we now have a ringing endorsement for our industry."