When a vegan cafe had a run-in with wasps, managers faced two problems.
Not only did the uninvited guests force the Bonobo workers' co-operative cafe in Skene Street, Aberdeen, to close its popular garden, staff also had to get up and running again without killing the insects.
Step forward animal expert Kevin Newell, who put his talents to good use and removed the wasps without a single casualty.
"It's likely the wasps were attracted by the sweet treats we serve and, with the recent hot weather, there were so many," said Bonobo worker Allan Mollins.
Kevin formed Humane Wildlife Solutions in Ellon in 2012 and he claims it is the only pest control company in Europe that gets rid of animals from homes and businesses without harming them.
He said: "I'm a big admirer of what Bonobo do and I count their staff as friends.
"They got in touch with me to say they thought they had a wasps' nest in the garden.
"It's a problem for them because a lot of customers go out in the garden to enjoy the warm weather, so shutting it means a loss of trade, and also because they grow their own veg in the garden.
"The most likely explanation for the wasps being attracted is that someone has spilt a sugary drink on to the flower bed, and that has drawn them in. There were an awful lot of wasps."
Traditional pest control firms would kill the wasps and destroy their nest, but Kevin takes a different approach.
"Thankfully, there was no wasp nest in the garden, so the problem wasn't as big as it could have been," said Kevin.
He added: "My aim was to remove the part of the flower bed bit by bit where the wasps were going.
"I had to remove as much light as possible because wasps will not fly in the dark; then limit my breathing as much as possible."
This, said Kevin, is because when wasps detect human breath they go into "swarm mode" and become aggressive, so breathing lightly keeps them calm.
Since Kevin left Bonobo, the wasps have not returned and business is back to normal – and the firm did not charge them for the work.
"I believe in what they are doing," he said.
"They can give me a cup of coffee next time I'm in and we can call it quits."
Allan said: "We reopened the garden at the end of last week and we're very thankful to Kevin for his help."
Kevin works across the north-east and also throughout Europe.
His past clients have included the BBC and the organisers of the Glasgow Commonwealth Games in 2014.
"I've recently removed several wasp nests from places in Aberdeenshire and reset them in a suitable location. When I've visited them weeks later, they have been thriving, which is great for the animals," he said.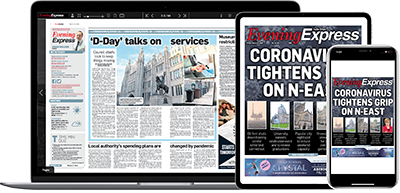 Help support quality local journalism … become a digital subscriber to the Evening Express
For as little as £5.99 a month you can access all of our content, including Premium articles.
Subscribe