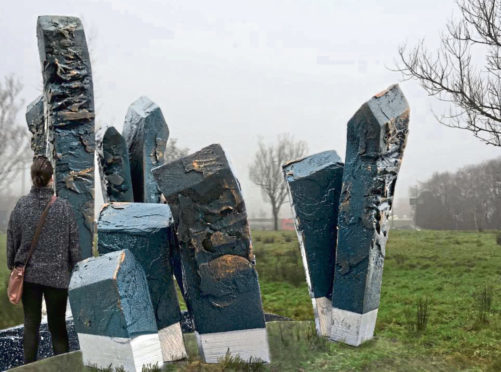 Residents have been given the first glimpse of a new sculpture.
Images of the Westhill Gateway sculpture, which is to commemorate 50 years since the first houses were built in the area, were shown at the Westhill Gala.
The project, by the Westhill and Elrick Community Council, was put out to tender last September, with Ireland-based German artist Holger Lonze selected.
The sculpture will be made up of five large bronze pieces that will be visible as motorists enter Westhill.
Each stone will represent a farm that was on the site before the development of Westhill, with a water-like finish to the bronze meant to depict the oil and maritime industries which have been influential in the development of the area.
Kate Lumsden, a member of the community council and the leader of the Gateway art project, said the reaction to the images was "95% positive".
She said: "We were absolutely thrilled but we know that you can't satisfy everybody.
"It's going to be quite a modern sculpture, with a lot of symbolism in it, so it might take a bit of explaining to people, but once you explain it then people start to get it."
The community councillor hopes the sculpture will act as a marker.
She said: "We felt that because Westhill doesn't have a high street, just the shopping centre, it might be a nice thing for people to see as they drive in."
Holger said: "It will be at the entrance to Westhill so it will serve as a gateway marker. The idea is to have something there that marks the entrance and gives it a bit of identity.
"The stones are based on the old farmsteads that were there before Westhill was developed; most of them are wiped out now or are hidden by modern buildings."
He said symbols will be put at the foot of the sculpture, to differentiate each farm.
His aim was to "bring back the hidden history of Westhill and make it visible again".
The sculpture is to be unveiled in October, to celebrate the anniversary of the start of construction of Westhill.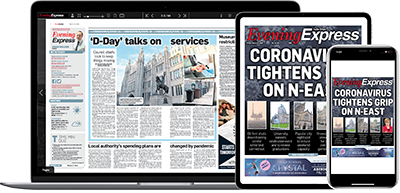 Help support quality local journalism … become a digital subscriber to the Evening Express
For as little as £5.99 a month you can access all of our content, including Premium articles.
Subscribe