A new initiative could soon be helping to save lives in Aberdeen communities.
Pulse Health Improvement SCIO – which promotes awareness of health-related issues and first aid education – and charity organisation Red Rox Events and Fundraising have bought a defibrillator that will be installed in Torry's Victoria Road.
The organisation and its volunteers will be working towards funding publicly-accessible defibrillators for regeneration areas in Aberdeen – a scheme currently being piloted in Torry.
Tracey Cass, 35, chairwoman for Red Rox Events and Fundraising, said: "We are raising the money and purchasing these defibs and Pulse will be providing the communities with free defib awareness sessions, CPR and first aid classes.
"We're hoping it will educate the communities on how to use this lifesaving equipment.
"We wanted to focus on the regeneration areas because of the percentage of people who live there. I'm from Torry myself and we are looking to improve the communities we live in – providing a better quality of life.
"We chose Victoria Road because we know that it has a high footfall and everyone knows where the police station is."
Each defibrillator costs about £2,000 and the group is in talks with the community to start the first aid training courses in Old Torry Community Centre on Abbey Place.
The workshops would be led by Tracey, who is a certified first aid trainer and assistant, and her husband Colin, who is a cardiac intensive care nurse.
She added: "We have a training defibrillator which is an exact replica of the one in the communities.
"Old Torry Community Centre is allowing us to run this project.
"But we are still figuring out the exact times that would work best.
"We're thinking it will be a few times a month on a Saturday."
Torry's defibrillator will be put in place today at the police box next to the police station.
To find out more information about the community project and also about future workshop dates visit
red-rox.co/torry-pads
The Torry unit is the latest in a series of community funded defibs springing up across the north-east.
Another was unveiled at Westhill shopping centre last month. St John's Ambulance Scotland, Westhill and Kingswells First Responders and the Westhill and District Rotary Club grouped together to raise the cash for the unit.
The defibrillator will be available 24 hours a day, from outside the management office of the shopping centre, for use by a member of the public, should it be required.
Centre owners MJ Mapp pledged to cover the installation of the unit, as well as cover the costs of electricity that would be incurred by its running.
At its unveiling, Westhill Rotary president Les May said: "This device has the potential to save the life of anyone in Westhill.
"The shopping centre is in the middle of town and is used by most people in the community, so it's an ideal location to have the defibrillator available."
Kingswells and Queen's Cross and Harlaw Community Councils are also currently in the midst of funding a defibrillator unit.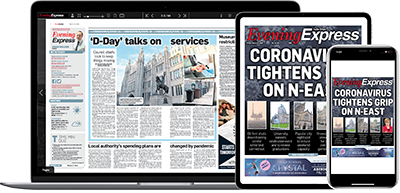 Help support quality local journalism … become a digital subscriber to the Evening Express
For as little as £5.99 a month you can access all of our content, including Premium articles.
Subscribe