The Aberdeen bypass has reached dizzying new heights – it can be seen from space.
New images taken by the satellite Sentinel-2 show the Aberdeen Western Peripheral Route (AWPR) in its entirety, running from Stonehaven to Tipperty.
The £745 million project is scheduled to open to traffic this winter.
Scottish Liberal Democrat transport spokesman and member of the rural economy connectivity committee MSP Mike Rumbles said: "I always knew the AWPR would have a really big impact but I never thought it would have as much of an impact to be seen from space. It's quite something."
Keith Brown, Cabinet Secretary for Economy, Jobs and Fair Work, said: "The image clearly shows the full size and scale of what is a mammoth roads project – the longest roads construction project currently in the UK.
"From Stonehaven in the south to Tipperty in the north, the 58 kilometres of new road is so enormous it can clearly be seen from space.
"The bypass is now fast becoming a reality.
"The full benefits the new road will bring – easing congestion in and around Aberdeen, while supporting more than 14,000 jobs and returning £6 billion to the local economy over the next 30 years – will soon be felt.
"During the coming winter, we are scheduling the addition of the new bypass to an impressive portfolio of road transport infrastructure delivered over the last 10 years, representing a total Scottish Government investment in construction of over £2.8bn."
Liz Hodge, chief executive of Aberdeen Science Centre, said: "Aberdeen Science Centre is always inspired to see technology being used to highlight important developments that impact on our lives.
"The level of detail visible from a satellite just above the Earth gives us the opportunity to explore with our visitors the amazing advancements in space exploration and discovery."
The 28-mile bypass project is being delivered by Transport Scotland on behalf of the Scottish Government and in partnership with Aberdeen City Council and Aberdeenshire Council.
The Sentinel-2 Cloudless website combines more than 80 trillion pixels collected between May 2016 and April 2017, merging them into a mosaic.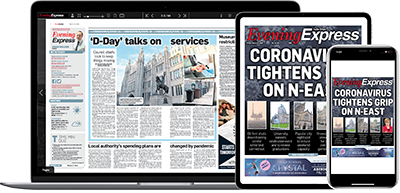 Help support quality local journalism … become a digital subscriber to the Evening Express
For as little as £5.99 a month you can access all of our content, including Premium articles.
Subscribe