Internal fit-out work has started at a new multi-million-pound concert and exhibition complex in Aberdeen
New computer-generated images of The Event Complex Aberdeen (TECA) have been released to mark the milestone.

The new visualisations, which have been created by the venue's architect Keppie Design, show the arena and restaurant.
Nick Harris, director of Henry Boot Developments in Scotland, Aberdeen City Council's partner on the development, said: "These new images of the arena and restaurant are an exciting glimpse into how the facility will look when it opens.
"Work is continuing to progress on schedule, with finishing touches currently being made to the roof, and it's amazing to think that in just a few short months, interior spaces like these will really be taking shape."
TECA, which is being constructed by the Robertson Group and is due for completion in 2019, will replaced the AECC and host conferences, exhibitions and music concerts, with the expectation of attracting major artists and events to the city.
Aberdeen City Council co-leader Douglas Lumsden said: "The new CGIs show how fantastic the restaurant and other areas will look in the TECA building and it's great to see the progress of what will be one of the biggest developments in the history of Aberdeen.
"The new venue is an important part of a period of enormous transformation for the city.
"Building TECA and the revenue it will bring through increased visitor stays, along with larger audience numbers, is one of the aims of our regional economic strategy for increased internationalisation of Aberdeen and the wider area as the new complex will enable the city to attract global acts and events."

The facility is expected to contribute an additional 4.5 million visitors, £113 million of visitor spend and £63 million net Gross Value Added to the Scottish economy. It will also result in the creation of 352 full-time-equivalent permanent positions by year 10 of operations.
Robertson Group's CEO Derek Shewan said: "While the construction of the exterior of The Event Complex Aberdeen is entering its final stages, work on the interior is continuing apace.
"More than 850 Robertson employees and contractors, including many local joiners, painters, electricians and plumbers, are currently transforming the interior of the building into a world class event, hospitality and exhibition space."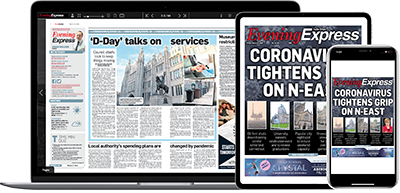 Help support quality local journalism … become a digital subscriber to the Evening Express
For as little as £5.99 a month you can access all of our content, including Premium articles.
Subscribe