Council chiefs will create a revised "action plan" in an effort to tackle a £6.3 million funding black hole for the Aberdeen Art Gallery revamp.
A Heritage Lottery Fund grant of £10m has been matched by Aberdeen City Council, and a public fundraising drive for the remaining £10m was launched in early 2015.
SNP group leader Stephen Flynn asked officers how much has now been raised in donations, during a meeting of the council's city growth and resources committee yesterday.
Richard Sweetnam, chief officer of city growth, revealed more than three years on, just £3.7m has been raised.
Responding to the figure, Mr Flynn added: "I think that's been roughly the answer for a considerable period of time.
"What is being done at this moment in time?"
Mr Sweetnam said he, and art gallery and museums manager Christine Rew, had recently held a meeting with trustees of the gallery.
He added: "We agreed a revised action plan in terms of fundraising going forward with the challenges with the local economy.
"That revised action plan will have very specific and realistic targets in and around the fundraising."
Conservative councillor Alan Donnelly said the fundraising bid was launched back when oil was at $115 a barrel, adding it was a "different economic climate" with sponsorship not coming in as was first anticipated.
Speaking after the meeting Mr Flynn said: "It's looking increasingly likely that we'll never see the £10m raised and that's a damning indictment of this administration."
In November it emerged the reopening of the gallery has been delayed by more than a year. The £30m redevelopment of the facility, Cowdray Hall and the Remembrance Hall is not expected to be open to the public until early 2019.
It was previously reported that raffle tickets were being sold off to council staff in a bid to drum up more of the cash, offering tickets for £2.
The art gallery project, which council chiefs vowed will make the attraction among the "best regional galleries in the world", is also facing a significant financial overspend due to the delays.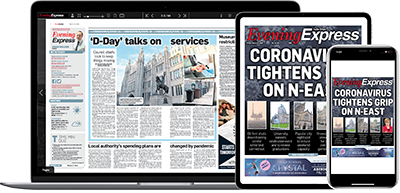 Help support quality local journalism … become a digital subscriber to the Evening Express
For as little as £5.99 a month you can access all of our content, including Premium articles.
Subscribe