New designs show possible future for Aberdeen community
Conceptional plans for an Aberdeen street design project have been showcased to the public.
The Tilly-Wood Street Design Project launched in September last year and aims to improve Tillydrone and Woodside.
Residents have been welcomed at a drop-in session at St George's Church in Tillydrone and the Fersands and Fountain Centre in Woodside.
The project team from Sustrans spoke to more than 120 residents, business owners and schoolchildren across the two events and received a huge number of feedback forms.
Since its inception, more than 1,500 people have spoken to the project and 26 activities and events have been run.
Through initial stages, it was determined residents would like to see improved pavements, reduced and slower traffic, safer crossings, better public space and more greenery and play areas.
Taking that into consideration, the initial designs focus on Hayton Road centre, Don Street bridge, Hayton Road underpass and two entrances into the area at Great Northern Road into Woodside and Tillydrone Avenue at Hayton Road.
The Tilly-Wood Street Design project is being organised by Sustrans Scotland and Aberdeen City Council.
For the Hayton Road area, design ideas include raising the section between Dill Road and Formartine Road and the area outside the community campus to slow down vehicles, widening and improving pavements, providing landscaping, seating and a flexible event space and to raise, widen and repaint the existing zebra crossing.
Don Street bridge options could see vehicles being denied access across the bridge, making it one-way eastbound, splitting the road or installing traffic lights.
The Tillydrone Gateway ideas hope to reduce the crossing distance and include a new raised zebra crossing, as well as moving the bus stop to slow down traffic.
In Woodside, similar designs have been put forward, including removing the left hand filter lane, giving priority to people travelling by bike and formalising parking bays along Don Street.
Ross Grant, Tillydrone councillor and transport spokesman for Aberdeen City Council, said: "What a great start to the Sustrans community consultation on options to tackle local road safety issues and to make Hayton Road, Don Street and the surrounding areas of Tillydrone and Woodside a better area for residents to enjoy.
"Options range from doing the minimum to doing the maximum and definitely deserve to be given careful consideration by residents if they want to see the heart of Tillydrone transformed into a place for people.
"I've had many discussions with residents and community representatives alike, and what I've been struck by is that people have an open mind and are challenging their own thinking about what needs to be done to make the changes the community have asked for for years."
Emily Davie, Sustrans Scotland's street design project co-ordinator, added: "We had a fantastic turnout at last week's drop-in events for the Tilly-Wood Street Design Project.
"More than 120 people attended to view and walk through the design ideas that have been developed following eight months of engagement with the local community.
"We had great conversations with local residents and businesses, which will help shape the designs further.
"A special thanks to CFine, who put on a fantastic spread of homemade soup and sandwiches with the Tuk-in electric van.
"We now look forward to visiting community groups and young people during April to ensure we reach as many people as possible.
"There is still plenty of time to feed back on the design ideas before the consultation closes on Friday April 26 and we would encourage everyone to get involved."
To give your views, visit tillywoodproposals.commonplace.is or visit Tillydrone Library or Woodside Community Centre.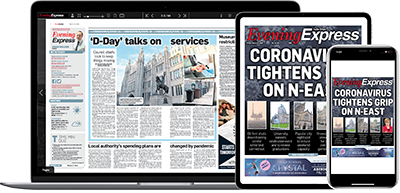 Help support quality local journalism … become a digital subscriber to the Evening Express
For as little as £5.99 a month you can access all of our content, including Premium articles.
Subscribe