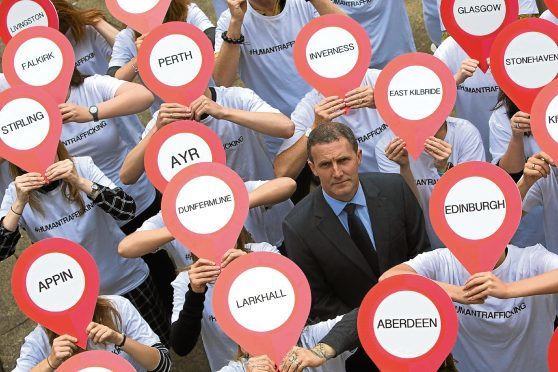 Human trafficking has been uncovered in a number of North-east locations – as a new campaign to raise awareness of the issue was launched.
Stonehaven was named in a list which is part of the Scottish Government's campaign to challenge perceptions that the grim trade only occurs in major cities.
Elgin was also on the list of locations where human trafficking has been recorded in the last five years – as well as Aberdeen and all of Scotland's other cities.
The Scottish Cabinet Secretary for Justice, Michael Matheson, said: "Human trafficking is an appalling abuse of human rights.
"This horrific crime affects the most vulnerable in society and has wide reaching consequences for its victims.
"Generating awareness that the exploitation of adults and children is happening in Scotland today is key to bringing it to an end."
The campaign's organisers, Police Scotland and TARA (Migrant Help and Trafficking Awareness Raising Alliance), have stressed the importance of bringing what is a largely hidden issue out in the open, and they are encouraging the public to report any concerns.
Human trafficking is described as a complex crime that causes its victims lasting physical and psychological trauma.
It can sometimes involve sexual exploitation or victims may be forced into becoming servants, trapped in forced labour.
Bars, car washes and construction are among the industries where potential cases in Scotland have been reported.
The head of Police Scotland's National Human Trafficking Unit, Detective Superintendent Stuart Houston, said: "Tackling human trafficking is a priority for Police Scotland.
"It is the exploitation and victimisation of vulnerable people."
The latest figures show there were approximately 150 victims of human trafficking identified in Scotland in 2016 – which was a 52% rise since 2013.
Operations manager with TARA Bronagh Andrew said: "Women have been recovered, not just from our cities, but from towns and villages across the length and breadth of Scotland.
"It is vital that we address the harm caused to vulnerable women, making sure they have better access to protection and support."