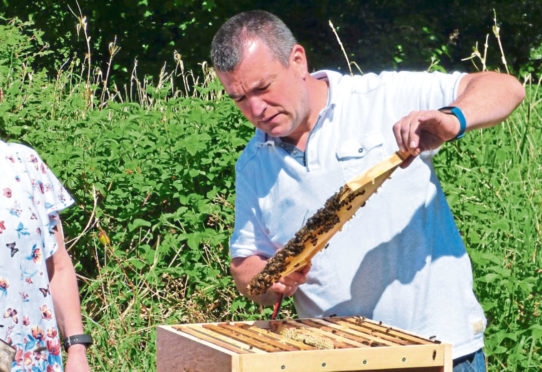 An Aberdeen community has an added buzz after three hives of bees were installed beside the River Don.
Residents of Donside Village in Aberdeen have set about learning all there is to know about the insects after beekeeper Stiliyan Georgiev approached the neighbourhood with a dilemma.
Founder and chairman of Aberdeen Community Energy (ACE) Sinclair Laing said: "We were approached by Stiliyan, who was struggling to find a place to keep his bees and he said that if he couldn't find a suitable place, he would have to sell them.
"Keeping bees and making honey was always something we have wanted to do in the community so we agreed to install them on the community land near the riverside."
The hives, which house black Scottish bees, were given a welcome ceremony from the community as Stiliyan presented the busy insects to children, as well as cutting up a frame of honey for residents to try.
Stiliyan, who moved to Aberdeen from Bulgaria in 2012, explained he came across his prized possessions by chance but admitted that he was "hooked" from the start.
He said: "I've been keeping them for 20 years, but it was initially a fluke. I'd been looking after them for a relative who was in hospital, but once you have smelled the fragrance that comes from the hives… you're hooked.
"The Donside area is perfect for the bees because it is a lot like the countryside but without the pesticides, which can make the animals dizzy.
"My wife Daniela and I had a wonderful day showing everyone the bees, and it is my pleasure to explain the process to everyone.
"My wife even made cookies for everyone with the fresh honey – I think urban honey is even tastier."
Looking to the future, Sinclair believes there is potential for schools to get involved in learning about beekeeping and the process of how honey is made.
For those still cautious of the insects, Stiliyan urged: "Bees are misunderstood – they are friendly creatures."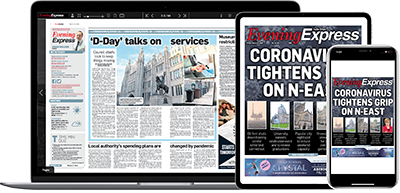 Help support quality local journalism … become a digital subscriber to the Evening Express
For as little as £5.99 a month you can access all of our content, including Premium articles.
Subscribe