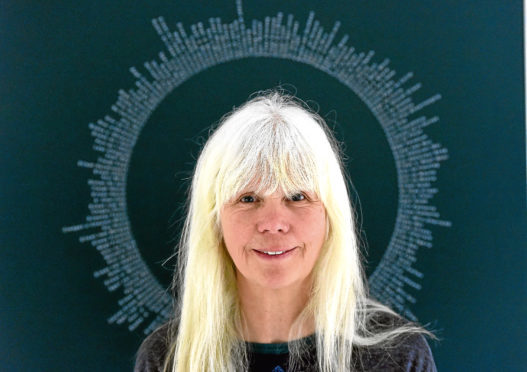 A new art exhibition has opened in an Aberdeen hospital.
The pieces are currently on display in the Small Gallery at Aberdeen Royal Infirmary (ARI).
Named Waterlines, the exhibit is by Aberdeenshire-based artist Gill Russell.
She has created a series of drawings, mapping out the flow of streams and rivers, along with poetry and other textual works.
The 56-year-old said: "I'm interested in sights and landscapes, and their significance.
"I particularly focus on water and its courses."
The exhibition is being hosted by the Grampian Hospital Arts Trust (GHAT), which has aimed to bring art to North-east hospitals for 30 years.
Gill, of Glenkindie, was quick to praise the "great" work of GHAT.
She said: "I specifically wanted to put my work there.
"You get so many people from all different walks of life that go there, some people are anxious, some people are bored, in the case of the people that work there, they're incredibly stressed, so you get a huge cross section of the population.
"They're also not there specifically to see the artwork, so they might see something that tweaks their perception, or even just lets them see something more uplifting than what they're going through."
The artist told of her experience in the hospital, as she wandered the halls, waiting for a meeting.
"I walked into a corridor that didn't have any images in it, and it really, really struck me how different it felt," she said.
Gill, who is not fond of exhibiting her work due to her feeling that galleries are "falsified" spaces, was excited to work with GHAT in what she described as a "real" place.
She "very much hopes" the art will help patients in the hospital, although she did appear modest at the possibility of her art helping people.
Gill added: "I'm not saying that my work is going to help patients, because that's a very big claim, but I'm happy that it's there, and I hope it adds some value to someone's life."
She was also keen to point out the other people who will be able to view her work and said: "It's not just patients, there's cleaners, there's doctors, nurses, admin staff.
"It's a fascinating place because of the cross section of the people that pass through."
Sally Thomson, director of GHAT, said the registered charity aims to "enhance the experience of all that spend time in NHS Grampian hospitals, whether you're a patient, staff, or a visitor".
The trust works in three different ways – holding exhibitions, collecting and distributing pieces throughout the region and running a project called Art Room, which allows artists to come in and work with palliative care patients in Roxburghe House and Woodend Hospital.
The GHAT collection currently boasts 4,300 different pieces of art that has been shown in NHS Grampian buildings.
Sally said: "The feedback we get is that people really appreciate our work.
"It's a distraction that helps to bring some humanity to the environment for patients.
"If you walk the corridors on any given day, you can see the amount of patients and visitors that are standing admiring the artwork, and just taking five minutes away from what they went there for.
"It's that interaction with the world outside that they can interact with.
"Even five minutes, can make that much of a difference."
Sally also spoke of the respite the artwork can offer to staff.
Before embarking on this project, Gill had a residency at Deveron Projects in Huntly, where she worked on a project called Hielan' Ways. It was here that her interest in water courses began.
"In the area that we were commissioned to explore, I was following Land Rover tracks, which I found a bit soulless," she added.
"So I ended up following rivers a lot, and making map drawings in relation to my experiences."
Following her work with Deveron, Gill went on to explore water sheds, the areas where burns and rivers meet.
In the midst of the exhibition, Gill will be holding a talk, which she hopes will be able to add context to her work.
It will take place on April 11 at 6pm and she hopes to attract people outwith the North-east art community to attend.
Prints of all work on display can be purchased from the GHAT website, with all proceeds going to the maintenance and expansion of the fund.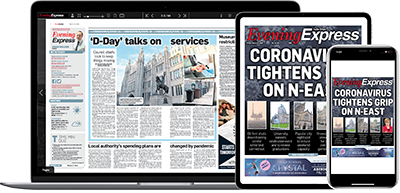 Help support quality local journalism … become a digital subscriber to the Evening Express
For as little as £5.99 a month you can access all of our content, including Premium articles.
Subscribe