A new 250-mile sightseeing tourist trail around the North-east has been unveiled.
Visitors will get the chance to travel off the beaten track and see some of the top attractions the region has to offer.
The North East 250, which was revealed at the Moray Speyside Tourism Conference in Elgin, takes travellers on a journey through Speyside, the Cairngorms, Royal Deeside, Aberdeen, and along the east coast and Moray coast.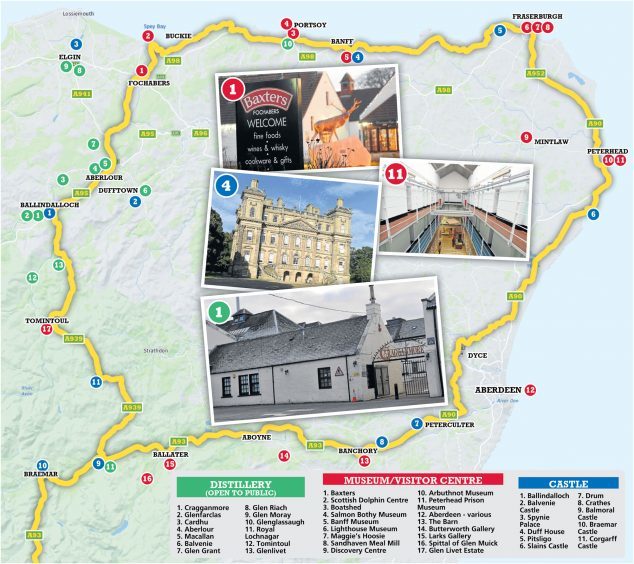 The route was developed by businessman Guy Macpherson-Grant, whose family's roots at Ballindalloch Castle date from the 16th Century.
Mr Macpherson-Grant hopes the project encourages people to visit, enjoy using the region's roads and the best things it offers.
He said: "I am excited by the potential of the North East 250 to bring more visitors to our area and experience, what I believe, is the very best that Scotland has to offer.
"We need businesses along the route to really get behind it and help make it the success I know it can be."
The track is described as the "ultimate road trip to the heart of Scotland".
The North East 250 has already attracted significant support among businesses along its route.
Partners and supporters include Chivas Brothers, Ballindalloch Castle and Gardens, Turcan Connell, Walkers, Aberdeen International Airport, Speyside Gardens and the Station Hotel in Rothes.
Jo Robinson, VisitScotland regional director, said: "This exciting new route is a welcome asset to the North-east and will, we would hope, simulate the success of other similar routes around Scotland.
"This area has arguably the best scenery, landscapes and views in Scotland and we would anticipate that the introduction of such a route will bring economic benefit to the area and its tourism businesses through increased visitors.
"VisitScotland works closely with communities and businesses to showcase the rich assets, hidden gems and stories of every region in Scotland. Tourism is more than a holiday experience – it is integral to sustaining communities across Scotland by generating income, creating jobs and stimulating social change."
The North East 250 team has already put together an initial list of places to visit, along with information on accommodation and local amenities.
It is hoped the list of attractions and places to visit will grow as more businesses sign up.
Laurie Piper, operations manager at Moray Speyside Tourism, added: "I am confident that the North East 250 will contribute to the continued growth and development of Moray Speyside's tourism industry – which is what everybody gathered at the conference is aiming for."