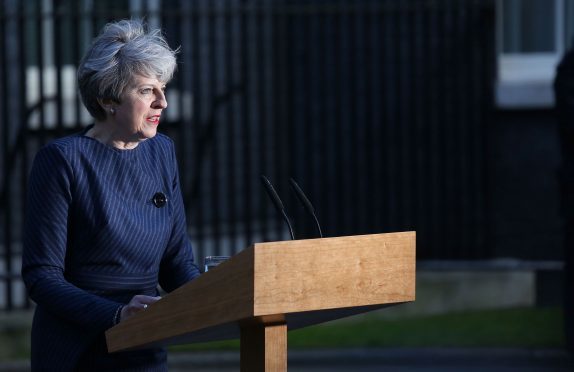 North-east MPs have branded Theresa May's decision to hold a snap general election "an extraordinary U-turn".
Reacting to the Prime Minister's announcement that she is seeking the dissolution of Parliament and a General Election on June 8, Scottish National Party MPs called the shock move "irresponsible".
Speaking outside of Downing Street the Prime Minister conceded it was a change of direction.
She said: "We need a General Election and we need one now.
"I have only recently and reluctantly come to this conclusion, but now I have concluded it is the only way to guarantee certainty for the years ahead."
The PM took aim at the SNP and others, who she believes are "jeopardising the work we must do to prepare for Brexit at home" while weakening the government's negotiating position in Europe.
She said: "The Scottish National Party say they will vote against the legislation that formally repeals Britain's membership of the European Union.
"Labour have threatened to vote against the final agreement we reach.
"The Lib Dems have said they want to grind the business of government to a standstill.
"Unelected members of the House of Lords have vowed to fight us every step of the way.
"This is your moment to show you mean it, to show you are not opposing the government for the sake of it, to show that you do not treat politics as a game."
Alex Salmond, MP for Gordon, said: "This is blatant opportunism by the Prime Minister who is looking to take advantage of the weakness of the Labour Party to legitimise her hard-Brexit agenda and shift the entire country to the right.
"After everything she said about governing the country, she has taken one look at the opinion polls and dashed to an election.
"All of this makes it more important than ever that the SNP are there to offer real opposition to a Prime Minister intent on smashing all dissent to her hard-right agenda.
"I will be offering myself to the party for the wonderful constituency of Gordon to provide and deliver that opposition."
Banff and Buchan MP Eilidh Whiteford said: "This is an extraordinary U-turn by a Prime Minister who promised not to hold a snap General Election. Once again, the Tories are putting party-political interests ahead of the national interest.
"The SNP are the real opposition to this right-wing, austerity obsessed Tory government, and will always stand up for ordinary people in Scotland."
Callum McCaig, MP for Aberdeen South, said: "A Tory-led hard Brexit is already projected to cost 80,000 jobs and only last month the Oil and Gas Institute reported it will be costing the supply chain an extra £200 million a year, so ignoring those negotiations is the last thing we need.
"Instead of focusing on her day job the Prime Minister has irresponsibly called a General Election set to impede the work of Parliament and put a spanner in the works for Brexit talks with EU counterparts."
Meanwhile SNP depute leader Angus Robertson, MP for Moray, said the shock poll will be "a straight choice in Scotland" between the SNP and the Tories.
Mike Weir, the MP for Angus, agreed that the vote will be between the SNP and the Tories.
He said: "In the spirit of democracy, I would not stand in the way of a General Election.
"We have strongly opposed many of the hard right policies they are pursuing and it is absolutely essential we continue to offer that opposition and articulate a different approach."
Stuart Donaldson, MP for West Aberdeenshire and Kincardine, said: "I will approach this election with the same energy and enthusiasm that I take to work every day as an MP.
"If elected, I will stand up for my local constituency and for Scotland against the hard Brexit of the austerity-obsessed Conservative government."
Kirsty Blackman, MP for Aberdeen North, said: "The day job has been well and truly abandoned by the Prime Minister who has thrown Brexit negotiations into the air for her own party political gains.
"Myself and my staff are working constantly to protect people from and help those devastated by Tory policies including welfare cuts that leave people unable to afford food, and Draconian immigration policies that are tearing families apart across Aberdeen.
"We must ensure SNP MPs remain in Westminster to fight this horrendous and inhumane Tory government."
Mrs May's motion for a General Election on June 8 was being put to the House of Commons today and requires a two-thirds majority to pass.