The North-east is one of six areas in the UK that will get to try out super-fast broadband technology that promises speeds approaching one gigabit per second.
It is the first stage of a £200 million scheme to help bring "full-fibre" broadband to businesses, schools and hospitals.
Aberdeen and Aberdeenshire councils will each receive around £10m to test innovative ways of connecting offices and public sector buildings with the next generation of broadband.
The scheme has been set up by the UK Government in a bid to offer speeds of one gigabit or 1,000 Mb/sec.
The news of the boost in investment was praised by Russell Borthwick, chief executive of Aberdeen and Grampian Chamber of Commerce.
He said: "AGCC believes that connectivity, both physical and digital, are the key enablers of delivering our economic ambitions for the region.
"This is welcome news as the Chamber has previously pointed out that the North-east has performed poorly in terms of broadband speed and mobile coverage meaning that our businesses and citizens are at a disadvantage versus other areas of the UK.
"Our city region deal made provision for improving ultra-fast fibre connection to business and industrial parks and it is our hope that this announcement represents additional investment over and above this.
"We will also continue our push to see the Aberdeen city region granted pilot status in the full roll-out of 5G coverage."
Andrew Bowie, MP for West Aberdeenshire and Kincardine, said: "This is fantastic news and I am delighted Aberdeenshire is to be one of the very few areas in the whole of the UK to benefit from this in the first stage of a £200m project.
"Improving broadband coverage and speed was one of the first topics that my North- east Scottish Conservative colleagues and I raised after the General Election.
"We made the points during a meeting with the Minister for Digital Matt Hancock that parts of Aberdeenshire in particular were lagging behind the rest of Scotland, never mind the UK.
"Indeed, I have campaigned for some areas like Garlogie, where residents have struggled to access broadband at all.
"The announcement is a positive step forward that I'm sure will be welcomed by my constituents in West Aberdeenshire and Kincardine."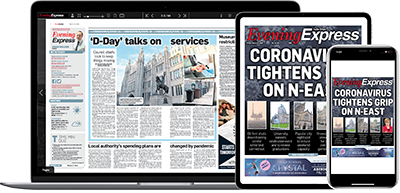 Help support quality local journalism … become a digital subscriber to the Evening Express
For as little as £5.99 a month you can access all of our content, including Premium articles.
Subscribe